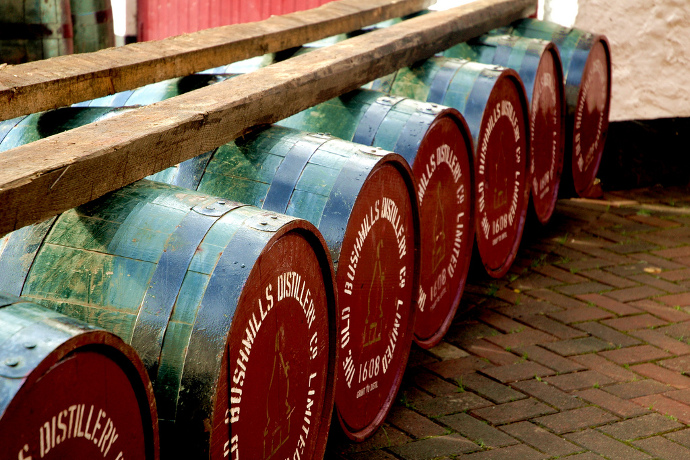 A Buyer's Guide:
For Newcomers to Whiskey: Clontarf, Jameson. "For the novice Irish whiskey drinker, [Clontarf" is very palatable," Baker observes. "It's not overwhelming." Jameson, Baker says, "is the most accessible whiskey for the non-whiskey drinker." If Jameson is everywhere, then it's widespread for a reason – and that reason is not just public relations.
For Newcomers to Irish Whiskey: Tullamore. Its single malt component "adds a citrus, floral lightness to the whiskey. This is a well-balanced whiskey," Baker says, "and, I would argue that this is also a very good one for an introductory whiskey drinker, because it is very smooth and balanced. It doesn't have a lot of burn."
For Scotch Whisky Lovers: Bushmill's Black Bush and Kilbeggan. The latter "is a blend, but it is double-distilled and it has a heavy single-malt component." Baker says, "It's lighter, it's fresher . . . The single malt brings floral and citrus notes, whereas the pot still brings the honey, the cream and the fatty notes, and then grain is just sweetness. In comparison with scotch, Black Bush "is not on that smoky level . . . but as a blended scotch drinker, this would really appeal."
For a Bourbon Drinker: Jameson's Black Barrel "is the perfect introduction to Irish whiskey . . . It's a much more intense flavor" than the usual Irish whiskey.
For a Person who Thinks There is Nothing Missing from the Home Irish Whiskey Collection: Powers. "Stepping up, they have a one-hundred percent pot still: the John's Lane release and the Signature release are gorgeous whiskies."
For Single-Malt Drinkers: Connemara peated. "It is a single malt. It is peated. Not very many Irish whiskies are peated. It's nowhere near something like a Laphroaig." If you look at the chemistry – and you can smell and taste it, so you might as well look at it, too – then peat smoke contains phenols. During the kilning process, the malted barley absorbs some of those phenols. Voila: smoke in a glass. For comparison's sake, Bunnahabhain has between one and two percent phenols per million; Laphroaig, around forty to forty-five percent. Whiskies come peatier than that– but only a couple. Ardberg and Longrow come in at fifty-five percent. Don't seek that level of peatiness in Connemarra, which "is around fourteen to sixteen ppms." That's approximately a quarter of the smoke in Laphroaig.
For a Drinker who Wants to Get to Know Irish Pot Stills: Green Spot. "It's world-renowned. It's won multiple awards." Baker describes Green Spot as having a "lovely, smooth, creamy, spicy flavor." Back to history: "This was the first relaunch of pure, pot-still Irish whiskey that hit the American market. It's just fantastic."
8/8
Photo via Flickr

Recent Articles
Best Bars For Outdoor Drinking in Philadelphia, 2017
Have the Perfect Pint Experience with Guinness in Las Vegas
The Shark Week Drinking Game
Feedback
How are we doing? Tell us what you like or don't like and how we can improve. We would love to hear your thoughts!