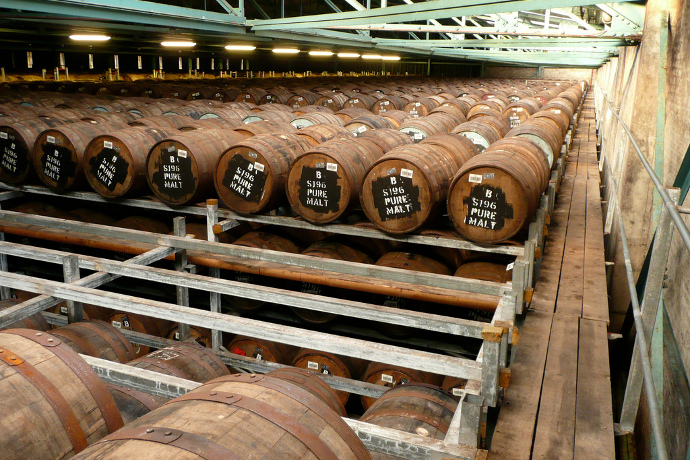 The Basics:
Yielding to a request, Baker leads with a few things drinkers should know about Irish whiskey:
When you smell Irish whiskey, don't stick your nose in the glass and inhale. Do stick your nose in the glass, then "breathe through your mouth. You're going to smell it, but you're not going to burn the sensors in your nose." Suck the vapors straight in through your nose, and "you're not going to smell all the notes."
Where most Scotch whiskies are double distilled, most Irish whiskies are triple-distilled.
There are three different styles of Irish whiskey: blended, single malt and pot still. "Blended can be a mixture of any three," Baker says. "Grain, single malt, or pot still. It can be any proportions. For instance, you have Tullamore Dew, which is roughly seventy percent grain, fifteen percent pot still and fifteen percent single malt."
"What the grain does is bring in the sweetness, a very attractive flavoring, especially for the novice." If you're buying a gift for someone who isn't a settled Irish whiskey drinker, take note. "For someone who's new to Irish whiskey," Baker remarks, "I would recommend something like Clontarf or Jameson, which have high components of grain."
So grain brings sweetness and smoothness. "Where you add in the flavor is with the single malt and the pot still. Lots of spirits are distilled in pot stills," she admits. What makes pot-still Irish whiskey unique? "It's a mix of malted and unmalted barley. That's where you get the creamy spiciness, the honey and the vanilla . . . from the unmalted barley."
Baker's love is for pot-still whiskey, but her knowledge spans the Irish whiskey realm from liquids bourbon-lovers would love to pours built for people whose drinking worlds revolve around County Cork.
3/8
Photo via Flickr

Recent Articles
Best Bars For Outdoor Drinking in Philadelphia, 2017
Have the Perfect Pint Experience with Guinness in Las Vegas
The Shark Week Drinking Game
Feedback
How are we doing? Tell us what you like or don't like and how we can improve. We would love to hear your thoughts!