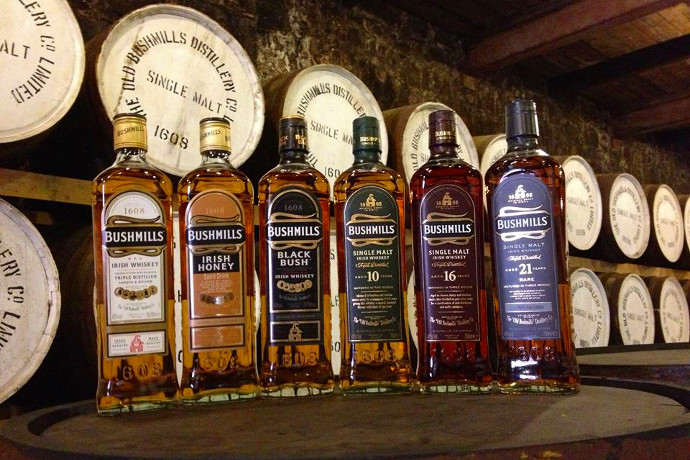 Tastings Pt. 2:
Before pouring Tullamore Dew, Baker sets the hardbound menu on the bar, and opens it to show old distillery photos. "We've done the blendeds," she says, referring to the preceding glasses, "grain and pot still." Tullamore Dew is, "I think, second in the market now, coming up behind Jameson." If competing with Jameson is an uphill marathon, then Tullamore Dew is a drink to power the run. "This is an extremely well-balanced whiskey." Baker's voice takes on the tone of a torch singer, all love and memory, as if she were fond of the whiskey. "This is also forty percent, chill-filtered, triple distilled, but this has a grain component, a pot still component, and a single malt component. It's just lovely."
Bushmill's Black Bush has eighty percent single malt and twenty percent pot still. "There's no grain component in this," Baker says. "This is still a blended, but now we've blended the pot still and the single malt." The Black Bush gives itself to upscale cocktails, but it is complex enough to enjoy on its own. "This is a very interesting whiskey. Again, you're going to get a lot of floral and citrus notes, lightness from the single malt. Then it's balanced with the heavier pot still component."
"Knappogue Castle is a one-hundred percent single malt Irish whiskey. I tend to not love single malts," Baker confesses. "My palate leans toward those pot stills. This is not something I personally drink a lot, but that doesn't mean that it is not an excellent whiskey." A fine whiskey it is, and an unusual one.
6/8
Photo via Bushmill

Recent Articles
Best Bars For Outdoor Drinking in Philadelphia, 2017
Have the Perfect Pint Experience with Guinness in Las Vegas
The Shark Week Drinking Game
Feedback
How are we doing? Tell us what you like or don't like and how we can improve. We would love to hear your thoughts!