By the Numbers: The Ultimate Spirits Challenge Takes Rating Booze Seriously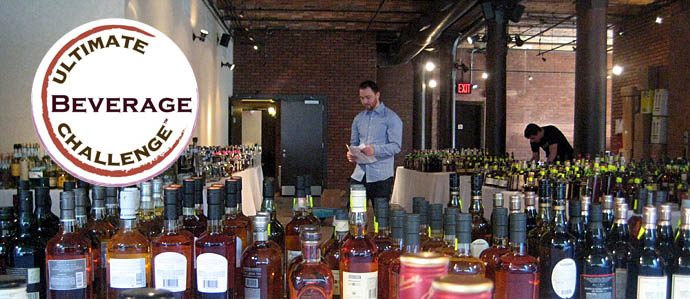 Lined up dozens of bottles deep on white-draped banquet tables, the entries to this year's Ultimate Spirits Challenge appeared like a boozehound's survivalist fantasy. Consuming and rating this liquid goldmine were fourteen authors (David Wondrich), buyers (James Conley), journalists (Doug Frost, Jim Meehan), publicans (Julie Reiner, Tad Carducci) and consultants (Dale DeGroff) considered the top palates of the spirits biz.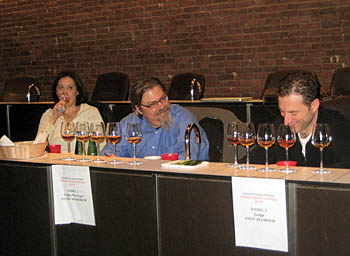 This elite panel was assembled at Astor Center in New York City by judging chairman F. Paul Pacult, the editor of Spirits Journal and co-founder of the Ultimate Beverage Challenge, an organization that performs identical taste-offs for wine and cocktails. "Many of the supposed top spirits competitions are rife with judges that are, to be kind, out of their depth," said Pacult. "Wine judges shouldn't be evaluating reposado tequilas and single malt Scotch, period."

Booze brands pay $395 per expression to enter their products into the voluntary competition, which evaluates gin, whiskey, tequila, rum, vodka, brandy and liqueurs.

Tasting totally blind, judges were presented with four- to six-glass flights of a class of spirits (aged rum, flavored vodka, anejo tequila, etc.), as well as still or sparkling mineral water, mild Meunster cheese, crackers and celery as palate cleansers. As some judges prefer a splash of beer as a palate refresher, glasses of Stella Artois were also close at hand.

Supporting the judging was a back-of-house team that co-chairman Sean Ludford deemed "more qualified to judge than most judges in other competitions." In order to keep the tasting totally blind and scrupulously organized, team leader Leo DeGroff (Dale's son) employed a system of bottle numbers, glass numbers and miles of blue painter's tape to identify each sample in the flights, designed by spirits expert Sean Kenyon. "All the judges see are random numbers," said the younger DeGroff.


Over five days, the hard-working panelists blind-tasted 220-250 spirits from each category, evaluating them on a 1 to 10 scale for visual, olfactory and gustatory quality. These number scores were averaged to create a final "hard score" out of 100 possible points, with any spirit rating 85 or above appearing in the UBC's published results, complete with tasting notes and ratings from each individual judge. Following the first round of tasting, all spirits that scored 90-plus were tasted by different panels in a second round; the highest scoring products from the second round were tasted once again to identify finalists and the Chairman's Trophy winners in each category.

Ensconced in their gallery, the judges sniffed, swirled, spat and made copious notes. They conferred over their glasses at times, re-tasting and eyeballing the mystery in each glass. Leo DeGroff sailed into the room, hoisting a tray heavy with shining brown spirits. His dad Dale paused in his notes to question his son on the timing of the next flight. "We've got it coming now," replied Leo, just a bit exasperated. "And you've got crumbs all down your front." Even for the King and Prince of Cocktails, this boozy family business is hard work.
Check out all of this year's Chairman's Trophy winners, below.
Vodka – Unflavored
Fuzzy's Ultra Premium

Vodka – Flavored
BAK's Bison Grass Zubrowka

Gin
Plymouth

Genever
Bols Barrel Aged

Tequila – 100% Agave
Blanco: Milagro Select Barrel Reserve Silver
Reposado: Ambhar
Anjeo: Siete Leguas
Extra Anejo: Jose Cuervo Reserva de la Familia

Mezcal
Del Maguey Vida Single Village

Rum
Appleton Estate Reserve

Rhum Agricole
Rhum J.M. White

Cachaca
INOX Original

Whisk(e)y – North America
American Whiskey: Balcones "1" Texas Single Malt
Bourbon: Blanton's Single Barrel
Rye: Masterson's
Tennessee Whiskey: George Dickel Barrel Select

Whiskey – Ireland
Blended: Midleton Barry Crockett
Irish Pot Still Whiskey: Redbreast Cask Strength 12 Years Old
Single Malt: Bushmills 16 Years Old

Whisky – Scotland
Blended Malt: Johnnie Walker Green Label
Blended: Buchanan's Special Reserve 18 Years Old
Single Malt: Caol Ila 12 Years Old

Whisky – Canada
Caribou Crossing Single Barrel

Whisky – World
Japan: Yamazaki Single Malt 18 Years Old

Brandy
Armagnac: Delord 1978
Calvados: Calvados Drouin 25 Years Old
Cognac: Frapin Château Fontpinot XO
Grappa: Jacopo Poli Sarpa Barrique
Pisco: Pisco Porton

Liqueur
Green Chartreuse

Apertif
Lise Baccara Troussepinete Red
Photos by Felicia D'Ambrosio
Recent Articles

Feedback
How are we doing? Tell us what you like or don't like and how we can improve. We would love to hear your thoughts!