Tailgate Beer: Craft Cans for the Masses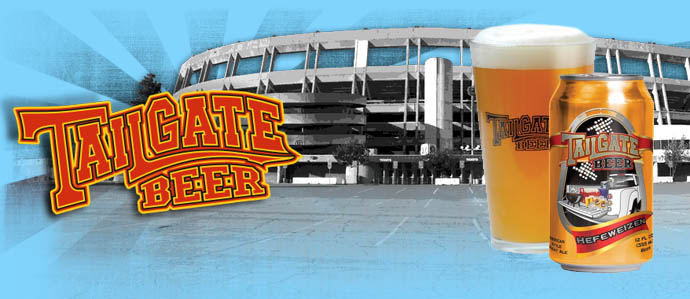 Wesley Keegan was happily satisfied with his life as a laid-back San Diego bar owner and homebrewer when his father approached him with an idea. The elder Keegan had trademarked a brand name and logo for a new brand of beer. "Make this into a company," he urged his son, and in 2007, Tailgate Beer was born.
Never one to do things half-way, Wes threw his heart and soul into the new business, and began brewing and refining, tasting, testing and learning. He took his creations to the Great American Beer Festival, and was amazed by the interest his brand aroused in the beer community. Keegan – whose distribution network had thus far consisted of him hand-delivering kegs to SoCal bars – decided to take Tailgate to the next level.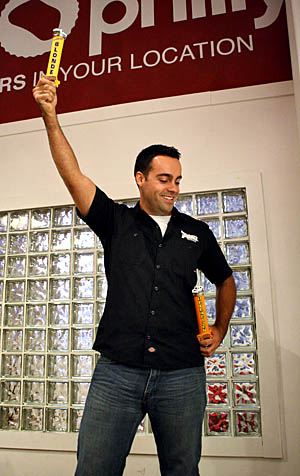 To make Tailgate Beer the perfect go-to for pre-stadium boozing, Keegan opted to begin producing in cans. He refined a recipe for a golden ale – ever popular at tailgating sessions – found a brewery he could work in that had canning capability, and created Blacktop Blonde. This light, refreshing, 5% ABV American blonde is easy-drinking and flavorful (thanks for the samples, Wes!). Unlikely to impress diehard hopsheads or heavy stout fiends, Blacktop Blonde is meant as a hand-crafted alternative to the anemic tasting "big beer" brands that litter every gameday parking lot.
Keegan began to tour California and the neighboring states, taking Blacktop Blonde around the country, from NFL and college football stadiums to NASCAR tracks. Tailgaters gave the slightly-malty, slightly-hoppy, subtly-spiced brew a serious thumbs up. Maxim Magazine included it on their 2011 Best Beers list. USA Today gave it a shout in an article about gourmet tailgating. And Tailgate Beer is now distributed in seven states, including Pennsylvania, Arizona, California, Minnesota, Wisconsin and the Dakotas.
Earlier this year, Tailgate Hefeweizen was introduced, the second in a lineup of what will eventually be six year-round releases. An American take on the classic German style, the Hefe presents grassy, wheat flavors sparked by citrus and spice notes. According to brand standard, it's also a session beer, clocking in at 4.9% ABV.
While these brews aren't particularly pioneering in flavor or construction, they are breaking down one longstanding barrier: the iron grip AB In-Bev and MillerCoors have over the professional sports market. Each batch is brewed by Wesley himself, and even the tap handles are hand-painted, down to the adorable trucks that adorn the top end (tip: you can snag your own for $35 each here). Prices on the cans haven't changed since the company started, making sixpacks a great value as well (think $7.99 or less). Next up for Tailgate is an IPA, due spring 2012. We're looking forward to it.
Photo by Danya Henninger: Wesley Keegan gets down with his tap handles
Tags:
Beer
Recent Articles

Feedback
How are we doing? Tell us what you like or don't like and how we can improve. We would love to hear your thoughts!