The Brown Room: Cape May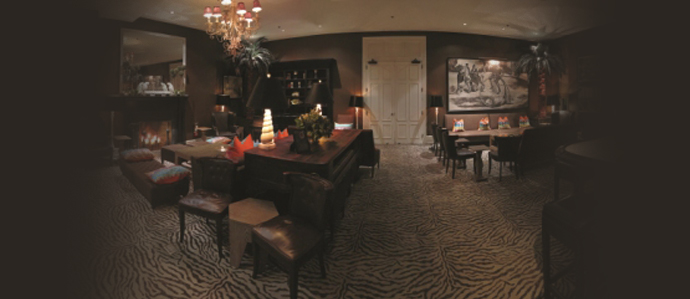 Looking at Cape May's stately Congress Hall, the words cool, sophisticated, and chic usually do not come to mind. This is a town known for its straight-laced Victorian history, where Dr. Physick sometimes appears with his tall silk hat, and antiques adorn every bed and breakfast along Jackson Street. But take another look, and you'll realize this grand hotel doesn't quite fit in with its surroundings. The colonnades and pale yellow facade belongs to the "Second Empire" style (think France's Napoleon III). Stranger still, upon entering the lobby, you begin a transition that leads into its later history. If you go too far- say, to the hotel rooms with their flat-screen TVs, or downstairs to the Boiler Room nightclub with its neon, stainless steel, and pounding rhythms- you'll find yourself in 2011. Yet there's a place in between, one that offers a slightly modern, stylized twist on the Roaring Twenties: The Brown Room.
As of late, this has become THE place to see and be seen by the jet set in Cape May, and to relax and unwind. Potted palms, an ebony and marble bar, and animal-print touches are all embellished by chocolate-colored walls and antique oil paintings; one feels uber-chic just simply sitting down on a couch and absorbing the atmosphere. Interestingly enough, this room was the original location of Cape May's first post-prohibition cocktail bar, so it stands to reason to celebrate that fact by ordering a drink or two. You can sample one of The Blue Pig Tavern's own ales (Congress Hall's eatery) or blend in with the surroundings and order a classic martini.
If you happen to get a little craving for the salty ocean breezes, take your glass outside to the rear of the hotel, where you can sit in one of the old-fashioned wooden rocking chairs amongst those endless colonnades. As you look out over the lawn, listening to the breaking waves just across the street, this would be the perfect time to enjoy that fine cigar you brought along.
Who said that history couldn't be cool?
About the author:
Lisa Howard-Fusco is a freelance writer and co-Grand PooBah of the website Eating In South Jersey, a resource of all things food and drink in the Southern portion of the Garden State. She now finds it safer to use her 10 years of publishing and film experience to yammer on about local restaurants, food-related events, wineries, recipes, and craft beers on the website, instead of accosting people on New York's street corners. Although she has mellowed with age, Lisa has been known to commit acts of violence when everyone assumes the homebrew was made by her husband and Eating In South Jersey partner, John. Lisa's great hope is to someday master the art of enjoying grappa and cooking the slime out of okra.
Photo credit to Macie J Nabrdalik for headline photo and Ted Axelrod for article photo.
Recent Articles

Feedback
How are we doing? Tell us what you like or don't like and how we can improve. We would love to hear your thoughts!