Luke Palladino: Atlantic City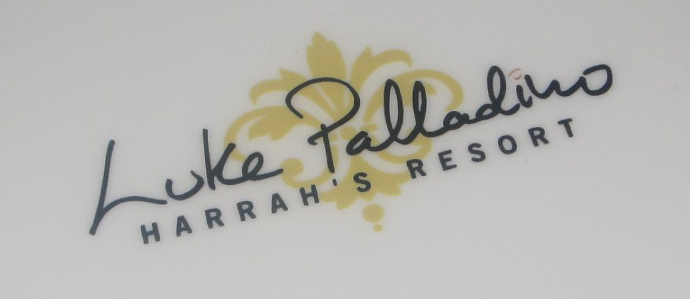 If you haven't already heard, Luke Palladino, the local, almost-a-celebrity NJ chef just opened his own namesake at Harrah's in Atlantic City. After a grueling stint running 3 highly-acclaimed restaurants at the Borgata (Ombra, Specchio, Risi Bisi), he has been lying low out in nearby Northfield, where he has been packing people into his 30-seat trattoria. Although he's known for amazing Italian-themed food with a fresh twist, it remained to be seen if he could take that same magic and apply it once again on a large scale.
One of the things that impressed me first was the minute attention to detail in everything-including the bar experience. Although sitting at a casino restaurant's bar traditionally isn't the hippest experience, all bets are off here. One could make a fantastic night of it with some good friends by just grabbing a nuevo-designed barstool, making friends with the bartender, and sipping and munching to your heart's content. The décor throughout is a cool, understated black and white, with a few warm touches (such as the "in bocca al lupo" in calligraphy on the upper wall, meaning, "good luck"); and one can see the chef himself at work in the open kitchen in the center of it all -even from the bar.
There also happens to be one sexy bar menu available, and innovative drink offerings are de rigueur here. Try a Sgroppino (Belvedere, Prosecco, and Limoncello) or a Cynar and Tonic (with singed lemon and mint). One of the best surprises is the beer list: 6 rare Italian craft brews, such as Birra Baladin "Nora", an Egyptian spiced ale (skip the lackluster, mass-produced Peroni), are available. A fan of craft brews but feeling import-shy? You can always order a Flying Fish Exit 4. Be sure to order some small plates: Olives Frittes (Sicilian olives stuffed with Marscapone and Gorgonzola cheeses, walnuts andsage, then lightly breaded and fried) is recommended.
But let's say you're looking for a grand night out and are willing to drop a bit more cash; you'll want to make a reservation and stay for dinner. Palladino is known for his creative use of whatever is local and in season, and his menu changes frequently. Though you might find a few old classics such as Veal Saltimbocca or Caesar Salad, that's as far as it goes; yet, rest assured, it will be the best version of those dishes that you've ever had, anywhere. However, I recommend the "OMG"- factor dishes that include appetizers such as NJ Asparagus Sformato (a luscious flan-like dish making heavenly use of shaved aspargus, finished off with a "truffled egg insalata" which acts more like a sauce) and Mushroom and Taleggio Crespelle; all-handcrafted pastas (made daily) like Fazzoletti ("silk handkerchiefs" with NJ basil pesto and fava beans) and Burrata Ravioli (filled with Burrata mozzarella and served with a Sungold tomato puree and basil); and entrees such as Sicilian Mixed Grill (daily market seafood coated in oregano breadcrumbs served with lemon-marjoram sauce zucchini "trifolati"). Desserts are no less amazing, with a chocolate pudding tart or zeppoles that will send anyone into orbit at first bite.
Are there a few flaws? Maybe. My coffee arrived almost cold, even though the service was warm, gracious, well-timed, and knowledgeable. And maybe the "tree" of truffle-butter breadsticks wrapped with prosciutto was a bit gimmicky-but it felt so easily forgivable, simply because they tasted so damn good. Let's face it, I need to find something "off " to keep my food-writing credibility. But the truth is that however you choose to spend your evening here- at the bar or at a formal seating- you won't be disappointed.
About the author:
Lisa Howard-Fusco is a freelance writer and co-Grand PooBah of the website Eating In South Jersey, a resource of all things food and drink in the Southern portion of the Garden State. She now finds it safer to use her 10 years of publishing and film experience to yammer on about local restaurants, food-related events, wineries, recipes, and craft beers on the website, instead of accosting people on New York's street corners. Although she has mellowed with age, Lisa has been known to commit acts of violence when everyone assumes the homebrew was made by her husband and Eating In South Jersey partner, John. Lisa's great hope is to someday master the art of enjoying grappa and cooking the slime out of okra.
Recent Articles

Feedback
How are we doing? Tell us what you like or don't like and how we can improve. We would love to hear your thoughts!