Bar Etiquette: 101, Lesson 2: Your Tastebuds & You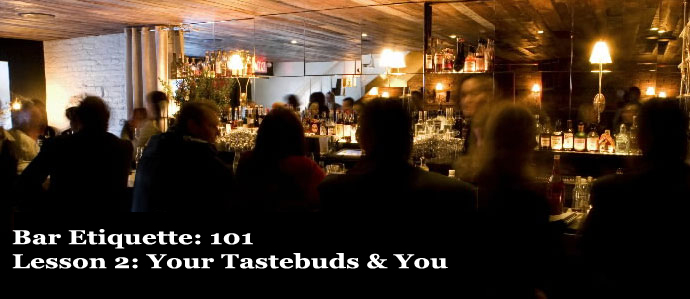 It's fair to say that everyone has different tastes. To that end, it can be reasoned that you won't always like what you order.
To help you approach not only making a better order at the bar, but also to help you along with proper protocol, follow these simple tips.
1. Don't order something you know you won't enjoy in the first place.
It breaks my heart to read online reviews of restaurants in which customers are thoroughly satisfied with all aspects of a meal except the one they knew they wouldn't like to begin with.
Perhaps it's some misguided spirit of adventure that takes people down this route, but seriously – why order the Banana-Bacon Melontini if you hate bacon in the first place? Also, why do you hate bacon? Do you have some kind of problem?
There's a difference between "being adventurous" and "drinking bad ideas." Trust your initial judgment, it's probably right.
2. When in doubt, ask for suggestions.
It is generally the bartender's duty to get you the drink that you will enjoy. If you want to try something new, tell them. Give them specific flavors or tasting notes you'd like to see, and discover something that way.
This will help you not only find new drinks to try, but will also help establish your relationship with the bartender. The more they know about you, the better drinks you'll receive.
3. Don't always send something back just because "you don't like it."
This is really a case by case deal. It can happen that you simply don't like the cocktail, or that the quality isn't up to your standards. Proper protocol is to simply check in with your bartender or server.
Don't simply say "I don't like it." What don't you like about the cocktail? Is it the flavor? Is it the quality of product used? Was the description misleading?
The number one mistake is to simply send it back and get a different cocktail without giving or receiving any feedback. The more information they have about what you're looking for, the easier it will be to serve you.
Remember folks: a bartender isn't always a bad bartender if the drink you order doesn't suit your palate. Ask questions. Be curious. Be adventurous, but within reason.
We hope these rules help!

Related Articles:
Recent Articles

Feedback
How are we doing? Tell us what you like or don't like and how we can improve. We would love to hear your thoughts!