Bar Etiquette: 101 - Lesson 1: Crowding the Bar
Stop cocktail blocking me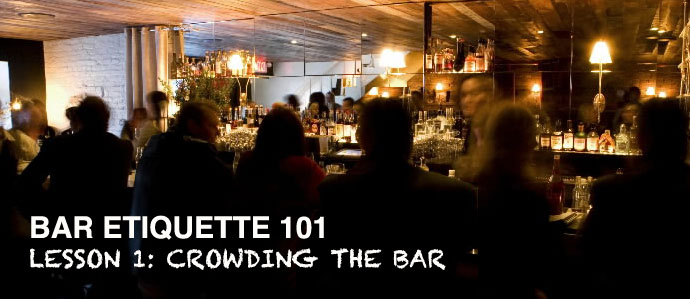 Ladies and gents,
Drink Philly would like to present the first in what will be many of a series of articles titled "Bar Etiquette 101."
We began this with our good friends over at Phrequency, and decided to continue the trend here. We hope that these helpful tips will not only inspire you, but others to become a better bar patron.
If these lessons seem rather basic to you, congratulations! You're one of the courteous ones! Pat yourself on the back, knowing that you are not only helping to make the world a better place, but also are raising the bar for bar etiquette!

Lesson One: Crowding The Bar
We've all been there. It's Saturday night at some zany hotspot, and you've fought tooth and nail to get to the front of the bar. You place your order, you wait for your drinks. When they arrive, you may at one point have felt a sudden sense of *comfort*. Depending on whether or not this is your particular scene, you may have found solace at the bar, and may feel content to just hang by with your friends, and enjoy having a little counter space.
The truth is, there's a certain degree of self-awareness that you need when you're out at the bar. It's not just you out to have a good time, it's others as well. You crowding up the bar is the equivalent of walking down the sidewalk with four of your friends, holding your arms straight out and not moving for anybody.
"Hold the door," so to speak. Let others in, let them have a good time. Flag down the bartender for a stranger. It will always go appreciated, and you're the hero in, every situation.
--
We hope these simple courtesy tips enrich the bar experience of many. Drink Philly likes to have a good time, but especially in the company of those who are courteous to others. Stay thirsty, friends.

Related Articles:
Recent Articles

Feedback
How are we doing? Tell us what you like or don't like and how we can improve. We would love to hear your thoughts!