State Stores Get New Look, New Name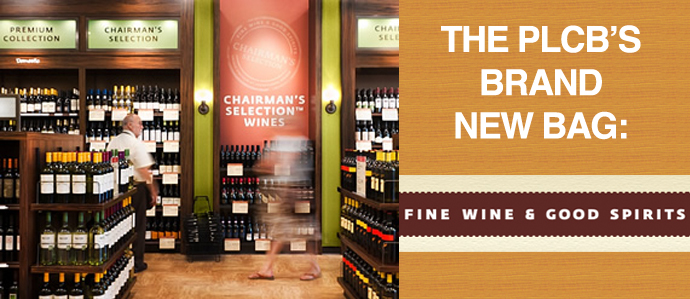 For years the "state store" has been a Pennsylvanian's only convenient choice for purchasing wine and liquor. And we use the term convenient lightly. Badly lit, hap-hazardly organized and about as appealing as a mini mart, the Liquor Control Board-run shops were antiquated and sometimes unfriendly. But Philadelphians may have seen a ray of hope, or at least modernism, along Columbus Boulevard recently. Now branding themselves as Fine Wine & Good Spirits, the store was one of the first to receive the Board's facelift, work that is scheduled to eventually brighten up all area locations.
With a new look designed by brand consulting and design firm Landor Associates, the new store is downright spiffy. The standard shelves have been replaced with wood, the cardboard boxes with those resembling winery crates. The boring white walls now are coated in pops of lime green, red and blue, and the peel-and-stick signage that wobbled above various sections now looks professional.
But the biggest difference is meant to be the customer-focused attitude of the stores. Visually, you can see this change in the creation of a central service area. Not just for tallying up your bill, the space is designed to educate consumers with tastings, displays and informational brochures. Find answers to what wine pairs best with salmon, how many bottles you need for a dinner party of 12 or, for those still holding onto New Year's resolutions, how many calories are in a glass of your beloved chardonnay.
And of course, the rehab wouldn't be new if it weren't at least a little green. The flickering fluorescents have been replaced with energy-efficient bulbs, and you'll be encouraged to tote away your purchases in reusable bags.
According to PLCB spokesperson Stacy Kriedman, it may even mean a wider selection. "We'll look at the products that are available and make sure that they fit with what we are hearing the consumers in that area are looking for." For more options, you can go online where there are 30,000 bottles to choose from. Or you can go rogue in Delaware.*
So when will your friendly neighborhood state store transform into a Fine Wine & Good Sprits destination? New Hope was the first in the area to receive the treatment, Columbus Boulevard the second. According to Kriedman, Second and Girard is the next spot on the list. Other area shops will follow, but no formal schedule has been set.
*Drink Philly would like to remind our readers that transporting alcohol over state lines is an offense punishable by law and we in no way are endorsing the idea of saving money and finding more selection in other states even though everyone does it anyway.
01.27.2011
---
About Melissa Auman Greiner:
A born and bred Philly girl with a soft spot for the city's growing food and wine scenes, leafy green squares and sultry summers. Just don't get her started on the inadequacy of SEPTA. With nearly 10 years of experience covering the city for a variety of newspapers, magazines and websites, it hasn't just been her pleasure to visit Philly's best bars and restaurants -- it's been her job. And with an advanced certification from the International Sommelier Guild under her belt, she brings her city savvy and wine know-how together to deliver Drink Philly readers the latest info on Philly vino. Twitter
---
Recent Articles

Feedback
How are we doing? Tell us what you like or don't like and how we can improve. We would love to hear your thoughts!