The More You Know: Tequila
An Education in Blue Agave with Q BBQ Tequila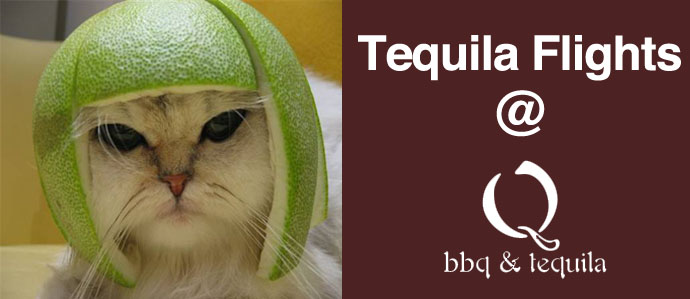 "I order them. I taste them. I love them." – Tom Stewart, on tequila
Let it be known that I am no tequila connoisseur. Truth be told, I had long been a member of the sad grouping that likened many tequilas to having "gasoline-like" qualities, and intended only to be shot or mixed.
Bless Old City's Q BBQ & Tequila for showing me the light.
I met with Tom Stewart, tequila-lover, pitmaster, and manager at Q BBQ Tequila, a great North Carolina-style barbeque joint in Old City. He patiently guided me through proper tequila tasting, which I was thrilled to find as simple as tasting any other liquor.
Before we began, there were some important facts passed to me that you should understand as well.
Highland vs. Lowland Tequila
Tequilas crafted from the highlands northeast of Guadalajara tend to have a much fruitier character. Highlands we tasted included: Patron, Don Julio, & Azul Siembra.
Tequilas crafted from the lowlands southwest of Guadalajara tend to have more notes of black pepper.
Listed below is a great selection of Tequilas that I hope you'll try. I've included a few of my tasting notes, and hope they will be of some benefit to you.
Hornitos
What an incredible surprise this tequila was! Compared to many of the other tequilas we tried, Hornitos was incredibly fruity in the nose. It had a clean taste, with more of the characteristic black pepper in the finish.
Patron Silver
What I found so bizarre about Patron was its incredibly clean taste. There was a hint of black pepper, but the fruitiness seemed to mostly spark from the flavor. When actually sipping it, I found that I really didn't want to shoot it. Tequilas like this are great to sip and savor. I must be growing up!
Cabo Wabo
Lots of black pepper in this one! It was a touch dry, with a warm, savory finish. There was a flavor that I couldn't quite identify in the finish that lingered, which led me to think that this tequila would work great with BBQ. A fitting tequila for the restaurant, I'd say.
Don Julio
"Creamy" is not a word the average drinker would normally associate with clear liquor, but that springs to mind with this tequila. Incredibly smooth, creamy, and sweet. This is one worth taking your time with.
Bracero
This one's for the whiskey drinkers. A touch earthy, with a bit of olive, followed by a mellow sweetness. This was a unique flavor all its own, compared to the other lowland tequilas.
Azul Siembra
Azul Siembra is a highland tequila, smoky up front with flavors of vanilla and caramel soon after. It has a syrupy mouthfeel, with a sherry-sweet nose. This is a highly approachable tequila, and I'd recommend this as a starter for anyone just delving into the spirit.
Jose Cuervo Reserva
I was thrilled to be offered a small taste of this. Woody, with a clean mouthfeel. I tasted quite a bit of pepper in this tequila.
Gran Centenario
Tom saved this tequila for last, and offered this as a suggestion for those just learning to taste tequila. It's approachable, and unique in flavor. It was floral and sweet, with a full bouquet of herbal notes. The finish was akin to a sweet port.
If you'd like to set up your own Tequila flights, definitely stop in and check these guys out. They're happy to set up custom flights, and to walk you through a proper tasting. If you happen to see Tom, give him a wave, compliment the North Carolina-style barbeque, and raise your tequila glass.
Sip slowly, with wonder!
Recent Articles

Feedback
How are we doing? Tell us what you like or don't like and how we can improve. We would love to hear your thoughts!