The Boozie: The Latest and Greatest in Unnecessary Drinkwear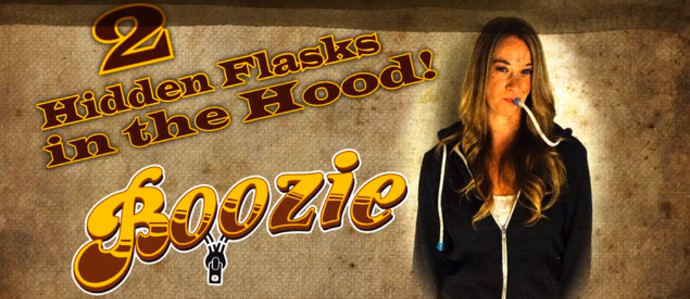 While Kickstarter has brought us plenty of great inventions we wouldn't have otherwise had a chance to partake in, it also seems to have promoted a rise in
drinkwear
, an odd niche of clothing that helps you get drunk. In addition to the
Drinking Jacket
, the creepy-ass
Cool Baby
, or the non-Kickstarter but equally unnecessary
Johnny Walker infused clothing
and Johnny Walker-hiding pair of shoes, we now have the
Boozie
, a hoodie you can hide booze in.
Perhaps showing just how bad event prices for alcohol have become, or how desperate people are to have booze on them at all times of the day or night, the Boozie brings you the ability to hide up to 20 ounces of your favorite alcoholic beverage in the hood of your sweater, with convenient sippy straws disguised as the pull strings of said hood. Which also seems to speak to the quality of drinker being marketed to—there have been no projects promoting a bowtie that can hold alcohol, or a three-piece suit that will allow you to drink all day.
Alcohol is already extremely portable, whether you need a flask to hold it or are relying on the resurgence of canned beer—which will both get you alcohol when you need it, like when you're tailgating, or at a picnic, or sitting at home. There really is no need to be able to sneak booze around in a hoodie, especially since, unless you're carrying it around in the dead of winter, having it wrapped in sweater material and resting against your warm body is going to heat things up pretty quickly.
Much more quickly than, say, a cold can of beer in your hand that you can easily wrap in a koozie.
Photo via The Boozie
Tags:
Beer
,
Spirits
,
Terrible Ideas
Recent Articles

Feedback
How are we doing? Tell us what you like or don't like and how we can improve. We would love to hear your thoughts!