Best Rum Cocktails The Shore Has To Offer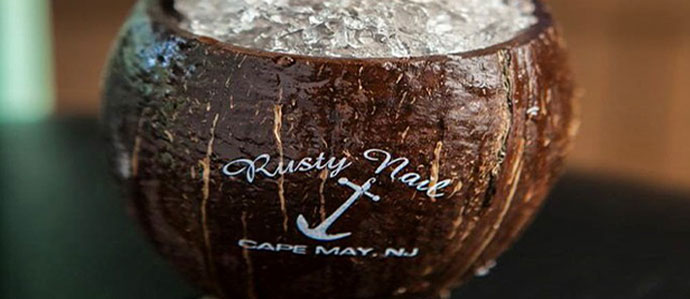 It seems like there's a holiday for everything these days. With bizarre holidays like Talk Like a Pirate Day (Sept 19) and National Pancake Day (March 4) picking up steam in the public eye, that just means more reasons for us to celebrate.
Which brings us to National Rum Day on August 16, one of our new favorite annual holidays. Designed to celebrate delicious, spicy and versatile rum, it's an easy day to enjoy, especially at the Jersey Shore. It's a truly fitting place for the fruity, tropical cocktails that are usually inspired by spiced and white rums.
So check out our favorite places to grab a rum-based cocktail, and enjoy National Rum Day to its fullest.
Rum Flight at Cuba Libra Restaurant and Rum Bar: It's not too hard to find a rum concoction at Cuba Libre's bar. Martinis, mojitos, rum punches, this place serves up everything with a dose of the good stuff. But when you really want to appreciate the spirit, try the rum flight. You can pick three varieties from the bartender's list of over 80 rums to sip and sample. (2801 Pacific Ave., Atlantic City; 609-348-6700)
Rum Runner Basin Mason at Back Bay Ale House: Back Bay mixes light and dark rums with blackberry brandy and banana liqueur, then tops it with pineapple juice, orange juice and some sweet grenadine syrup. It all gets served up in a whopping 32 oz. mason jar for some serious sipping. (800 N New Hampshire Ave., Atlantic City; 609-449-0006)
The Hammer at Rusty Nail Bar & Grill: This cocktail puts a coconut in your hand and transports you from the Jersey Shore to a Caribbean Island. Passion fruit puree, as well as pineapple and lemon juice, sweeten up two different kinds of rum, one coconut and one dark. You even get to keep the coconut it's served in. (205 Beach Ave., Cape May; 609-884-0017)
Bahama Momma at Laguna Grill: As the day heats up, you can cool off beachside with this frozen option. Cruzan rum is mixed with Malibu coconut rum, then blended with banana, pineapple and grenadine to create a smooth, creamy frozen treat. (1400 Ocean Ave., Brigantine; 609-266-7731)
Wally Slumber at Windrift: Hit Windrift's swanky Level II to experience this cocktail. Coconut rum meets spiced dark rum and fruit juice. Then, the entire drink gets topped with freshly chopped coconut, that has been soaked in Bacardi 151, for a serious punch of rum flavor. (105 80th St., Avalon; 609-368-5175)
Pina Colada Martini at The Black Whale Bar & Fish House: In this creamy spin on the classic martini, pineapple and coconut-flavored rums gets topped with pineapple juice. Then the whole thing gets finished with cream and a toasted coconut rum, and a bit of Myer's dark rum floated on top. (100 N Pennsylvania Ave., Beach Haven; 609-492-0025)
Dirty Banana at The Sawmill: In this totally original drink, the bartender combines Myer's dark rum with creme de banana and a coffee liqueur. The banana gets taken to the next level with banana puree, blended and mixed into the drink to add some extra texture and fresh flavor. (1807 Boardwalk, Seaside Park; 732-793-1990)
Patio Punch at Jack Baker's Wharfside Patio Bar: Served up in a 32 oz. bucket, this patio specialty is designed for serious rum lovers and includes mango, banana, pineapple and coconut rum. There's some cranberry and pineapple juice thrown in there for good measure, but we know who the real star of this drink is. (101 Channel Dr., Point Pleasant; 732-892-9100)
Photo via The Rusty Nail
Tags:
Cocktails
,
Rum
Recent Articles

Feedback
How are we doing? Tell us what you like or don't like and how we can improve. We would love to hear your thoughts!