Drink Green: 8 Sustainable Spirits for Eco-Friendly Cocktails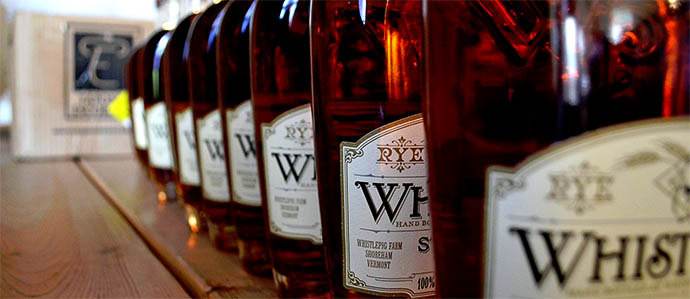 You're an avid recycler. You remember to turn out the lights when you leave a room, and all of those lights have CFL bulbs in them. There's beer in the fridge from a great local craft brewery that has solar panels on the roof. But what about your liquor cabinet? Have you considered using sustainable spirits for your martini?

U.S. distillers make some first-rate sustainable alcohols. Here's a short list — a pick of the sustainable spirits crop of eco-friendly vodka, gin, whiskey and others.



Bluecoat American Gin: Distilled in Philadelphia, this gin is perfect for a classic martinis, gimlets, or Tom Collins. Bluecoat has been praised by GQ, The New York Times, Food & Wine and others for its perfect slight burn and smooth finish. It's also been praised by sustainable foodies because it has no additives and uses all-natural, organic botanicals.

VeeV: Made from Brazilian Rainforest Acai berries and other 100% natural ingredients, this drink is made in Los Angeles at a distillery run with 100% renewable energy. VeeV is a one-of-a-kind spirit with a fruity flavor, and it works great as a mixer. It's the world's first carbon-neutral spirit, and VeeV donates 1% of its profits to sustainable rainforest preservation.

Blue Ice Organic American Wheat Vodka: Handcrafted in Idaho with USDA certified organic wheat and wheat neutral spirits, Blue Ice is clean with a nice spiciness but not too much of a burn. Who'd have guessed Idaho was producing such a great vodka?

WhistlePig Straight Rye Whiskey: Wine Enthusiast gave this 100 proof and 100% rye spirit its highest rating ever for a whiskey. The whiskey comes from the WhistlePig Farm in Vermont, a certified organic facility that is in the process of being restored to the type of farm it was back in the 1790s.

Organic Nation Vodka: From Oregon, this vodka is distilled from organic rye, wheat and corn. It's certified by Oregon Tilth, a nonprofit organization that's dedicated to biologically sound and socially equitable agriculture. Smooth and drinkable on it's own or in a vodka martini, it also works well as a mixer in fruity cocktails.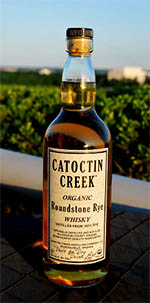 Peak Spirits CapRock Organic Gin: Organic Jonathon and Braeburn apples from local farms along with 12 different organic botanicals are the key to this gin made in Colorado. The water used in this peppery and floral gin comes straight from a clean, naturally-filtered, high altitude water source.

Catoctin Creek Roundstone Rye: Loudon County, Virginia is well known as wine country, but it's also home to the award winning USDA certified organic (and kosher) Roundstone Rye. Woody and caramel-y, this rye whiskey works as a mixer or the spirit can be enjoyed on the rocks or neat.

Art in the Age Sage: From a Philadelphia company that specializes in producing colonial-inspired spirits, Sage is a "garden gin" that uses some of the same botanicals that would have been found in Thomas Jefferson's gardens at Monticello. The organic botanicals include thyme, rosemary, lavender, fennel, and sage. The botanicals are subtle, and the libation is warm, dry, and has a lovely slight burn on its way down.

There are certainly several other sustainable spirits could land on this list. What's your favorite green drink?
Tags:
Cocktails
,
Spirits
,
Whiskey
Recent Articles

Feedback
How are we doing? Tell us what you like or don't like and how we can improve. We would love to hear your thoughts!