New Drink for Summer: Czech Sangria
Why not?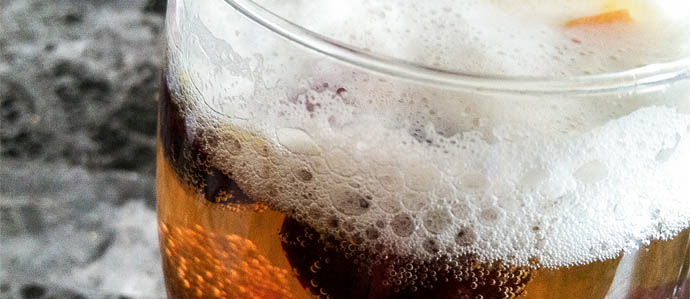 As unimaginable heat scorches a good portion of the nation, American men and women look to summer beverages to quench their thirsts. Typically, the burden of refreshment falls to cold, light brews like American lagers or wheat beers. Sometimes foreign products are called upon, however, such as sangria — a delicious mix of fruit, wine, sugar, cognac liqueur and seltzer that hails from Spain — or a traditional pilsner beer such as one from the Czech Republic.

I was enjoying both those delicious liquids this past weekend when I was presented with an intriguing quandary. To make sangria, I soak fruit in sugar and Grand Marnier overnight, (which transforms each morsel into a piece of alcoholic candy). In a moment of poor judgement, I had created too much fruit mix for the amount of wine I had, and was left with a surplus. Enter my six pack of Pilsner Urquell (4.40% ABV), the best known Czech beer in the world.

While the blend of these two might shock Czechs and Spaniards alike, I figured none of them were near my backyard, so why not go for it? To my surprise, the blend was delicious. The sweetness of the fruit and brandy was pleasantly offset by the bitter Saaz hops in the pilsner, to great effect. Not only that, but the natural carbonation of the beer was a more than adequate substitute for sangria's usual seltzer water.

With that, the Czech Sangria was born: a Frankenstein of cultures and drink preferences designed to deliver all from heat stroke. I invite you to give it a try and make your own — but keep an open mind. The recipe is not so much a blueprint as it is a set of guiding principles, which should be tweaked to suit your own taste buds.

Czech Sangria

3 cups Rainier or Bing cherries, pitted and halved
1 ripe peach, thinly sliced
2 ½ cups Grand Marnier
1 cup sugar
1 six pack Pilsner Urquell (Lagunitas Pils would work as a U.S.-brewed substitute)

Mix the fruit, liqueur and sugar in a container. Cover the mixture, and refrigerate for 8 hours or longer. Add half a cup of the mixture to a 12-oz. serving of pilsner, in any vessel you see fit — get creative!
Recent Articles

Feedback
How are we doing? Tell us what you like or don't like and how we can improve. We would love to hear your thoughts!