Chick Beer: Hot or Not?
Do pink packaging and perky prose go with beer?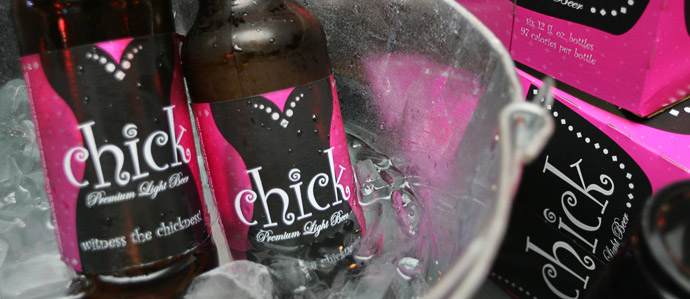 There's a new beer in town, and it's here to kick butt – though after a glance at the packaging, you might think it's here to chew bubble gum instead. Chick Beer is the brainchild of Maryland's Shazz Lewis, who set out to create a craft brew specifically for females, marketed explicitly to women. The product is a pink-hued act of affirmative action, designed to counterbalance what Lewis sees as the highly "bro-centric" world of beer.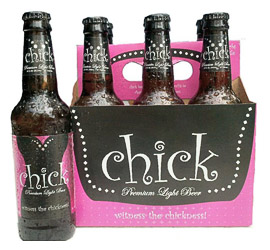 The first batch of Chick was bottled in Wisconsin in July, by what Lewis describes on Twitter as "burly union workers." Though the company website doesn't mention a name, it does describe the contract brewer as "America's second-oldest brewery." A bit of searching reveals that to be Minhas Craft Brewery in Monroe, WI, a producer of over 50 of its own labels, ranging from low-brow malt liquors like Kick Axe to well-rated crafts like Berghoff Pale Ale.

A light lager, the brew has just 97 calories and 3.5 grams of carbs per 12-oz. bottle, and a flavor the website describes as "soft, smooth and full-bodied." Does it taste good? That seems to be a minor consideration. In the same way that Bud, Coors, Miller and the rest of big labels are popular because of their marketing campaigns (not their flavor), Chick wants the female consumer to embrace the beer's femininity and get in touch with their own "chickness."

The response has been mixed. Some feel the product is sexist, because of its overt embrace of female stereotypes (Pink box! Low calorie! Low carb!). But Lewis has pledged 5% of the company's net profits to charities that empower women, primarily in the communities where Chick Beer is sold, which scores points from would-be critics. And many women simply welcome the opportunity to have a beer that stands out and is different, one that is "fun and sexy."

Currently only available in Maryland, expect Chick Beer to make good on their nationwide expansion plans as the hype around the product continues to grow. Are you a fan of Chick? Tell us in the poll below.
Chick Beer is sexist. It's a bad idea and I would never drink it.
0%
Even if I would never buy or taste it, it's not such a horrible idea.
0%
Love it. The embrace of pink, the charity donations, the concept. I'd buy it.
0%
Recent Articles

Feedback
How are we doing? Tell us what you like or don't like and how we can improve. We would love to hear your thoughts!