On the Rock: Plymouth Gin
Brand ambassadors Preston Eckman and Keith Raimondi share their cocktail recipes.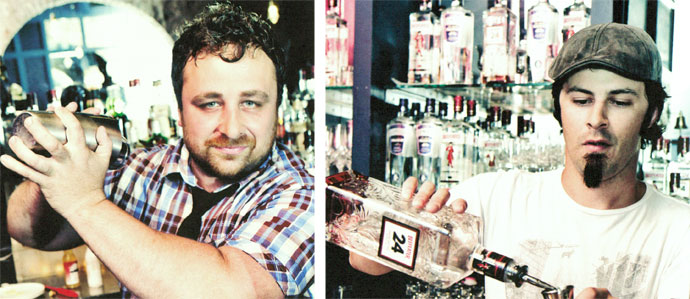 One of the premium labels under the Pernod-Ricard umbrella, Plymouth Gin is a style of English gin that – by law – can only be produced in Plymouth, England. The distillery where it is created has been in operation for over 200 years, and the copper pot in which the spirit is infused with botanicals to achieve its distinct flavor is 150 years old.

That flavor profile is a result of seven different ingredients, including the basis of gin's signature scent, juniper. Also added to the mix are angelica root, cardamom, coriander, orris and the peel of lemons and sweet oranges from southern Spain. Master distiller Sean Harrison distills each separately, and then blends the results in a custom ratio to achieve Plymouth's light-but-complex twang.

Pernod recruited 20 of the country's best bartenders to act as Plymouth Gin ambassadors here in the U.S., and asked them each to create a cocktail recipe that highlights the distinct character of the spirit (or that of the brand's sister gin, Beefeater). Two of these ambassadors hail from Philadelphia – Preston Eckman (previously at Opa) and Keith Raimondi (of Village Whiskey).
How do you take your gin? Planning to try these cocktails? Check them out and let us know.

Que Vera Vera
by Preston Eckman – "Gin speaks to my soul in a language of love."

1½ oz. Beefeater 24
¾ oz. Rinquinquin (a peach apéritif from the south of France)
¾ oz. aloe juice
5 dashes orange flower water

Combine all ingredients into a mixing glass. Stir and strain into a chilled cocktail glass. Garnish with a kumquat, pinched over the top and then dropped in to the glass. (If kumquat is out of season, substitute with an orange peel.)

Little Chicago
by Keith Raimondi – "I think gin goes perfectly with Thanksgiving dinner."

1 oz. Plymouth Gin
1 oz. Lairds Apple Brandy 7½ year old (made in New Jersey!)
¾ oz. maple syrup
¾ oz. fresh lemon juice
1 dash Fee Brothers Whiskey Barrel Aged Bitters

Combine all ingredients in a shaker, then pour into a martini glass or coupe and garnish with an apple slice.
Recent Articles

Feedback
How are we doing? Tell us what you like or don't like and how we can improve. We would love to hear your thoughts!