Lugo Cucina e Vino: Italian Fantasy at Revel Resort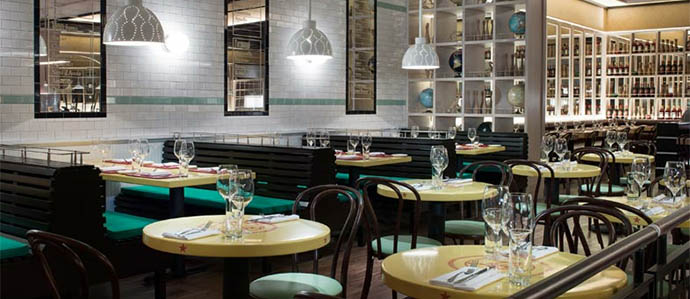 Ciao, bella! In Atlantic City's new Revel Resort, Lugo Cucina e Vino is an unapologetically stylized taste of Fellini's Rome. Like its mother restaurant in New York's Penn Plaza Simple, understated furnishings, sleek lighting, and black and white pictures of 1960s Rome grace the walls. Also like the NYC outpost, it's fun, bustling with all the trappings of traditional Roman cafes.

But no matter how sexy an Italian restaurant is, you still need solid food and drink. Although you won't find anything cutting-edge here, there are plenty of delicious dishes to choose from. Prime choices for starters are the juicy, melt-in-your-mouth Kobe meatball with polenta; the housemade "mozzarella bar" which includes embellishments like semplice (sea salt and extra virgin olive oil) and caprese (tomatoes, fresh basil, and balsamic glaze).

Among the best of the entrees are the cioppino (tender clams, mussels, squid, octopus, and shrimp swimming in a light, flavorful tomato broth) and the veal pasta with oxtail (soft, downy pillows of pasta infused with the flavor of veal, then dressed with a slowly simmered, incredibly rich and meaty oxtail sauce).

If you happen to find yourself waiting for a table, your best bet is to sit at the bar, order a dry and silky house prosecco, and strike a stylish pose to blend in with your surroundings; the large wine list is both solid and economical. There's also a list of "Lugo-Tailored" cocktails — almost as cool as a look from Marcello Mastroianni peering over his shades.

Most intriguing were the Limoncello Sunrise (Limoncello, fresh OJ, grenadine); the Negroni (Bulldog Gin, Martini Rosato, Campari); and La Notte (Brachetto D'Asti, Grey Goose Cherry Noir, Lemon Juice, Cherry Puree).

Lugo may simply be the manifestation of a fantasy that Americans have with all things Roma. Why not embrace it and enjoy la dolce vita?
Recent Articles

Feedback
How are we doing? Tell us what you like or don't like and how we can improve. We would love to hear your thoughts!