Word of the Week: Hops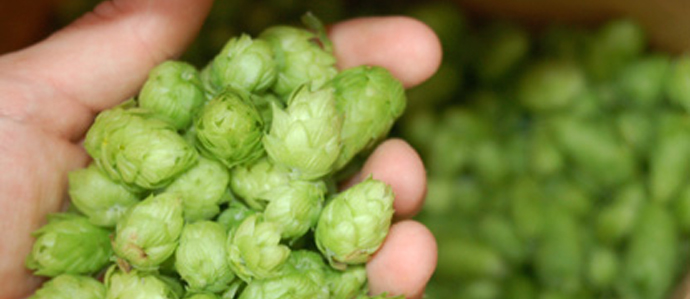 You've more than likely heard the word mentioned by a fellow beer drinker, but if you're just beginning your beer journey, there may be more for you to learn. Hops are a crucial element in modern beermaking, and make up a large portion of the beer flavors and aromas we know today.
Hops are flowers from hop plants, used primarily as a flavoring agent in beer! Oftentimes you'll hear folks comment on "floral" or "bitter" notes when tasting a craft brew. Oftentimes, these flavors have been imparted by hops as a means of giving the brew its own particular character.
Before hops, there was gruit - an herbal mixture intended to help bitter the beer. It wasn't until the 8th century that we have definite knowledge of people beginning to use hops as the bittering or flavoring agent in their beer.
When discussing hops, there are two forms - bittering and aroma. Bittering are usually added during the boil to impart bitter flavors to the beer, while aroma hops are generally added afterward to impart the "hop taste." Words often used to describe flavors or aromas include everything from floral, spicy, citrusy, and many more.
In 2005, the top three Hop producing countries were Germany, the US, and China respectively. With as many craft breweries as we have in this country today, we need them!
Now that you have a basic understanding of what hops are, go out and explore! Ask your bartender for different styles of beers with varying degrees of hops. You'll find every beer has something different to offer.
---
Related Articles:
Sunoco Stations Fill Your Growlers
Homebrewers Association, Top 50 Beers
Recent Articles

Feedback
How are we doing? Tell us what you like or don't like and how we can improve. We would love to hear your thoughts!