Beaujolais Nouveau Day is Nov 17, Midtown Village Celebrates
C'est arrive!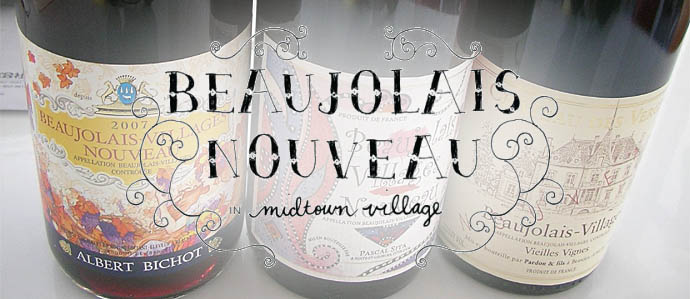 More than a dozen bars and restaurants in Midtown Village are gearing up for a big event on November 17, and it's all for a bottle of wine. Celebrated each year on the third Thursday of November, Beaujolais Nouveau Day marks the international release of the year's vintage all across the world.
In Philadelphia, from 5–8 PM, the area from 11th to Broad and Spruce to Walnut Streets will be transformed into a Parisian avenue, with accordion music and fluttering French flags. Time restaurant will act as a headquarters of sorts for the Gaellic festivities, serving complimentary gougères (French cheese puffs) and selling wine Jell-O shots (!). Across Sansom Street, Vintage Wine Bar will offer up steak frites (yup, French fries).
Throughout the neighborhood, special Beaujolais Nouveau pairings will be on the menu. Michael Schulson's pan-Asian Sampan will match dim sum with the wine, while Irish pub McGillin's would have you sip yours with French onion soup. Stephen Starr's El Vez is making a Beaujolais sangria for the occasion. Over on Walnut, Marabella Meatball Co. is giving away a free glass when you buy a three-course meal of salad, pasta and dessert.
Several restaurants will serving dishes created with Beaujolais Nouveau. Greek taverna Opa will throw the special vino into their risotto, served with day boat scallops, Zavino will use it to flavor a braised rib pizza and Mexican BYO Lolita will offer up a whole Beaujolais-inspired Thanksgiving. 13 Restaurant at the Marriott is cooking up chicken Beaujolais with mushrooms, and sushi house Raw will have an Asian-French fusion maki roll.
The fanfare that surrounds this wine is a tribute to its unique qualities. While most wines are created from individual grapes that are picked, pressed and then aged, Beaujolais Nouveau is prepared in the carbonic maceration method. Each September, whole clusters of gamay grapes are taken by hand from the vines, pressed and fermented, and then bottled up and shipped within two months.
The result of this method – in addition to the short shelf life – is a more earthy background and much fruitier and fresher palate than most vino. Compared to many red wines, full of rich flavors and drying tannins, this tastes like fruit punch. In a Zinfandel you might find chocolate notes, or taste tobacco in pinot noir, but in Beaujolais Nouveau, expect a hint of bubble gum.
So don your beret, head over to Midtown Village and get ready to sip the night away.
Additional reporting by Melissa Auman Grenier
Event Date: 11/17
Event Time: 5-8 PM
Location: Midtown Village

Tags:
Wine
Recent Articles

Feedback
How are we doing? Tell us what you like or don't like and how we can improve. We would love to hear your thoughts!