Drinks Featured in Movies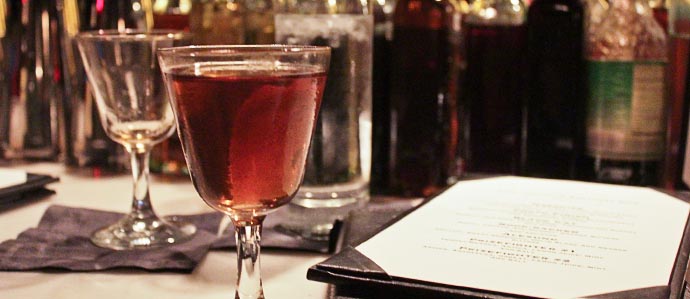 Following up on the Hollywood theme (yesterday we looked at six celebrity winemakers), we thought it would be fun to take a look at movies where a beverage has a prominent – if not starring – role. Turns out there are a whole lot of films in which booze plays a part. With the help of the Philadelphia Film Society, we've come up with a list.

Cocktail is probably the movie that holds the record for mentioning the highest number of cocktails. As bartender Brian Flanagan, Tom Cruise – hot off the success of Top Gun – only actually makes three for the camera: a Red Eye (beer, tomato juice, spices, raw egg); Turquoise Blue (a made up drink, strained into a martini glass), and a daiquiri (he makes it frozen and pours it into a hurricane glass).

Here are several other connections throughout the years:

The Big Lebowski – White Russian
The Dude requires these to keep abiding, we figure.
Blue Velvet – Pabst Blue Ribbon
Can't really gain more street cred than having Dennis Hopper shout you out.
Bonfire of the Vanities – Sidecar
A drink so delicious, it's worth risking your health for, even if you are married to Melanie Griffith.
Casablanca – French 75
Named after a World War I event, the brandy cocktail is ordered as a subtle dig toward Nazis.
Fear and Loathing in Las Vegas – Singapore Sling
One of the least potent intoxicants imbibed during the film.
Fletch – Bloody Mary
Goes perfectly with a steak sandwich. Or two.
The Godfather Part II – Banana Daiquiri
It's pronounced the same, wherever you are, Fredo learns from his brother Michael.
Groundhog Day- Sweet Vermouth
On the rocks with a twist, again, and again, and again.
Guys and Dolls – Milk Punch
Brando calls Bacardi a "preservative" to keep the milk from turning sour. Who are we to disagree?
James Bond – Martini
Shaken, not stirred, of course. 007 has also been known to quaff a Vesper.
Miami Vice – Mojito
What's the best place to get this tropical rum drink? Cuba, of course, consequences be dammed.
Moulin Rouge – Absinthe
The notorious Green Fairy is the featured spirit at this establishment.
Tootsie - Dubonnet with a twist
The most feminine drink Dustin Hoffman's character could think of.
Saturday Night Fever – 7&7
If it's good enough for John Travolta, it's good enough for us.
Sex and the City – Cosmopolitan
We place blame squarely on this movie for the Cosmo's popularity.
Sideways – Pinot Noir
We can thank this wine country film for this varietal's rise in popularity – sales increased more than 15% following the release.
Some Like it Hot – Manhattans
If Marilyn Monroe can make this classic cocktail in a hot water bottle, anyone can!
What are your favorite starring cocktails?
Tags:
Beer
,
Spirits
,
Wine
Recent Articles

Feedback
How are we doing? Tell us what you like or don't like and how we can improve. We would love to hear your thoughts!