Monkey Bay Sauvignon Blanc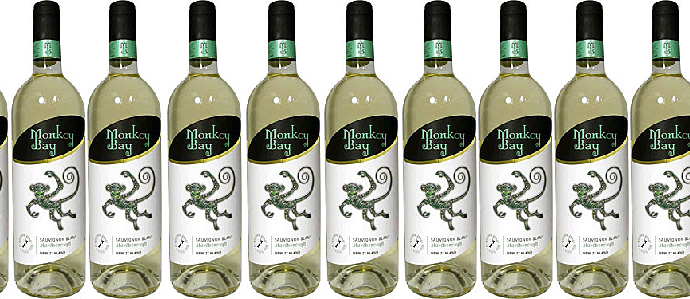 It's hot. It's humid. It's quintessential Philly in the summer -- something that no amount of complaining, wishing or rain dances can change. Instead of wasting precious energy with those fruitless activities, we should instead be making the best of the situation. Learn to love your office for its jacked A/C. Consider the wait for the El a new form of hot yoga. And invest in a few bottles of refreshing white wine.
When it comes to something chilled and easy-to-drink on the back deck, I advise staying simple. Sure, there are amazing bottles out there that will set you back $30 and up. Wines that have complex flavors and noses you could wax poetic about until the sun sets. But that's not what you want, is it? You want something cold. Something that won't sting if you accidentally chug the first few sips. My go-to: Monkey Bay Sauvignon Blanc.
Sauvignon blanc is an excellent grape variety: it's fruity, it's acidic, it's fun. It's also a bit of a masquerader: grow it in the chalky soil of cool northern France, and you get one flavor, grow it in the more tropical locale of New Zealand, and you have another.
For warm nights, the tropics are the way to go. Monkey Bay hails from Marlborough, an area that focuses heavily on sauvignon blanc and for good reason. The result there is tons of fruit like pineapple, passion fruit and melon. In this particular variety, I also tend to get bits of red pepper and grass, which are a great balance to the sweetness. Monkey Bay is lush, rich and seems totally at home on a sultry summer night. But it's not too harsh. It's an easy wine for newcomers to enjoy, and you won't ruin it if you drop an ice cube in, either (we won't tell).
Grilling while you sip? Grilled white fish with lemon and some asparagus would make it sing, but you can also pair with a lightly spice-rubbed chicken or even sausage and peppers.
The best thing about Monkey Bay, though, is the price. For the quality, its $11.99 (at most Fine Wine & Good Spirits stores in PA) price tag is a bargain. Catch it on sale or enjoy it while in New Jersey or Delaware, and you can pay as little as around $7. Considering that's what you'll pay for just a glass of a too-acidic and flat chardonnay at most downtown restaurants, the choice seems obvious.
---
Melissa Auman Greiner is a born and bred Philly girl with a soft spot for the city's growing food and wine scenes, leafy green squares and sultry summers. Just don't get her started on the inadequacy of SEPTA. With nearly 10 years of experience covering the city for a variety of newspapers, magazines and websites, it hasn't just been her pleasure to visit Philly's best bars and restaurants -- it's been her job. And with an advanced certification from the International Sommelier Guild under her belt, she brings her city savvy and wine know-how together to deliver Drink Philly readers the latest info on Philly vino.
---
Related Articles:
Recent Articles

Feedback
How are we doing? Tell us what you like or don't like and how we can improve. We would love to hear your thoughts!