Football & Wine? You Bet!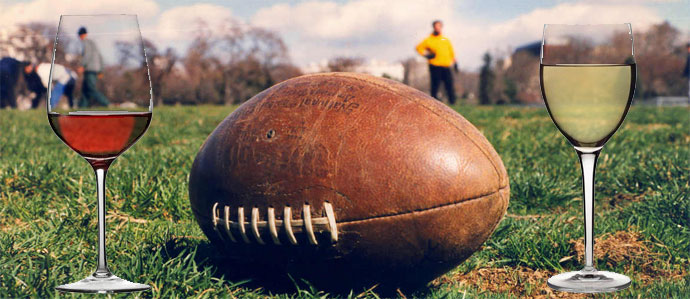 Ladies and gentlemen, are you ready for some football? Even better question: are you ready for some wine?
Yes, we know. Football and beer go together like bachelor parties and tequila, but there's no reason you have to limit the bar at your next pigskin party to a case of whatever light lager was on sale. Especially if you are entertaining known wine lovers, a few bottles on the table can make a big impression.

Of course, they have to be the right bottles. Sports snacks typically contain big flavors, which is perhaps why simple suds have been paired with them for so long. When you look to vino as a complement, you have to make sure the wine and food can play on the same team. Below, check our list of classic game day grub choices and the wines that will score.

Hot Wings

Full of deep-fried, finger-licking goodness, the spicy flavors of neon orange wing sauce can be difficult to tame. But like Paula Abdul taught us, opposites attract. So tame the fire with something sweet, like a Riesling. Even a kabinet, the driest Riesling on the market, has enough sugar to put out some flames. And the crisp acidity this varietal provides will mean you'll actually be able to taste the wine after a few bites, even if you opted for the diablo-style. Look for a classic German riesling from the Mosel Valley for a sure bet.

Chili

The recipe has been handed down for generations, and you have spent all day stirring the rich concoction to meld the flavors, just like mom instructed. What is bold enough for this manly dish? Hello, California Cab. Cabernet Sauvignon is no wimpy wine, and those hailing from areas like Napa are particularly feisty. Up the ante and use some of your selection in the chili for even more punch.

Salty Snacks

Popcorn, chips, pork rinds, oh my! These low brow snack options, perhaps surprisingly, go best with something a little more festive, like sparkling wine. You don't have to splurge on a good Champagne – a bottle of $15 prosecco is perfect. The dry finish and bouncing bubbles play nicely with the salt you'll be licking off your fingers. Classy.

Brownies

Or M&Ms. Or any chocolate-spiked dessert on tap. It may sound like a match made in heaven, but many wines actually don't go well with chocolate. Don't go too sweet or too dry; instead, reach for a punchy Zinfandel like those from the Russian River Valley. Full of fruity berry notes, the result is something akin to a boozy chocolate-covered strawberry. And really, what's wrong with that?
Recent Articles

Feedback
How are we doing? Tell us what you like or don't like and how we can improve. We would love to hear your thoughts!