Want a Healthy Heart? Drink Beer!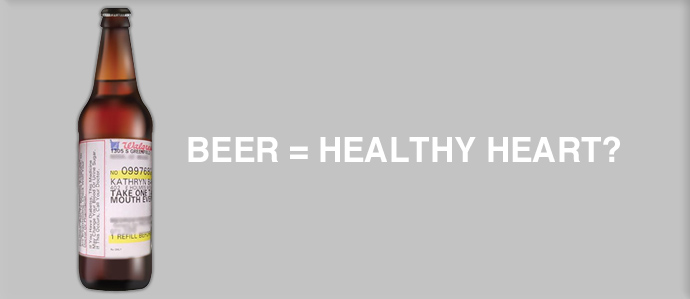 A new article released by the ADA Times aims to dismiss the notion that wine is healthier than beer and, more importantly, the notion that beer offers no health benefits. The article, titled A Toast to Good Health: Craft Brew Trend Brings New Attention to the Benefits of Beer, spends a lot of time comparing the benefits of red wine and (craft) beer while coming to the conclusion that, all things considered, beer may not only be more affordable but it also may be healthier.
While craft beer only represents 7 percent of the total beer market, the small industry has done a lot to class up the overall reputation of beer. And though it represents a niche market, it is certainly growing at a great pace. Last year, total beer sales were down 3 percent while craft beer sales increased by 9 percent (Local breweries like Victory claim increases by as much as 18%!). This increased visibility has led to the idea that maybe beer drinkers haven't been getting a fair shake when it comes to how society typically views them. It has also allowed the United States craft beer market to shine, which is supported by the statistic that 33% of people in the country are drinking less imported beers because of the craft beer industry.
The article builds on the idea of newfound respect of beer by claiming that it is unfair that red wine is viewed as a healthier alternative since ethanol is the main ingredient associated with heart health, of which wine contains a good amount. All alcohol, however, contains ethanol so moderate consumption of beer, wine, or liquor could lead to a healthy heart. Beer specifically has also been known to lower the chances of kidney stones in men, decrease the risk of type 2-diabetes, and improve cognitive function in the elderly. Alcohol consumption in general has been associated with greater bone mineral density as well. The study also states that beer has more micronutrients, including niacin and riboflavin, than wine.
The report then gives a good bit of nutritional information and various facts including that the more malt in a beer, the more B vitamins and that darker beers tend to have more fiber. The report ends with a chart that includes food, cheese, and dessert pairings for different types of beer such as stouts, pale ales, and porters. The author clearly wants people to have as much respect for beer as they do for wine, and why not? After all, as the article states, the Mayflower stopped where it did because the crew ran out of beer. It goes without saying that beer deserves all the credit it can get and this report only gives us one more reason to drink it…not that we needed that.
More information is available HERE
Now that you know beer is good for you, how will this affect your beer consumption?
It won't change anything.
0%
I'll probably drink beer more often.
0%
I'm drinking at my work desk right now.
0%
I'm going to trade all my medicine for beer.
0%
Related Stories:
Recent Articles

Feedback
How are we doing? Tell us what you like or don't like and how we can improve. We would love to hear your thoughts!