What's the Big Deal About Bordeaux?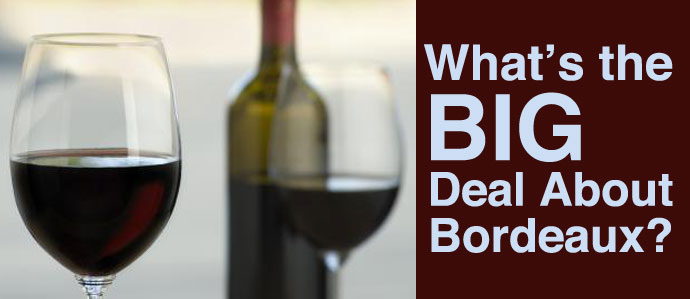 Novice or slave to the bottle, ask a wine drinker to name a great area for wine and odds are they will include Bordeaux. The largest wine producer in France, the area is home to some of the arguably best wine makers in the world. But that doesn't mean any bottle you grab off the shelf is going to deliver the wow factor the region has become known for. In fact, Bordeaux's real appeal and source of accolades is the fact that it's not bold or eye-opening; it's soft, delicate and nuanced.
The best way to avoid a dull bottle: mini geography lesson. The Bordeaux appellation sits in the southwest of France, and is separated by the Gironde River. Not just pretty, the water actually helps define the different types of wines to come from the area.
Areas to the east of the river, also referred to as East Bank Bordeaux, come from the sub-appellations of Medoc, Haute Medoc and Graves, as well as a few other lesser-knowns. They produce both red and white wines, but the reds are what garner attention. These houses follow the traditional Bordeux blend recipe: cabernet sauvignon, merlot and cabernet franc, with the percentages in that order. The result is a little more kick, a little more smoke and wood. France's top houses – Lafite, Latour, Margaux, Mouton-Rothschild and Haut-Brion – all call this area home, namely Haute Medoc.
Areas to the west of the river, West Bank Bordeaux, favor the same three grapes but make merlot the star. This means bottles from these mini-appellations, namely St.-Emillion and Pomeral, are more fruity, soft and lush. This profile has become more popular in recent years, especially among Americans, and wineries are responding. Many California wineries that create "Bordeaux blends" use this combination, as well.
The difference isn't just a result of trends or marketing, though. Wine, when it's grown and created properly, relies heavily on the soil in which it begins, a concept referred to as terrior. The river, over the centuries, created two different growing environments. The East Bank, with its protection from winter frost and more gravelly soil, created greater crops of cabernet. Likewise, the West's clay-filled ground delivered favorable bunches of merlot.
Like most wine shopping, there's still a bit of risk involved until you open the bottle. Pick which style better suits you, pick an appellation and pick a bottle. Refer to tasting scores from established publications, or choose those that you simply like the name of. The more information you back yourself up with, the better chance you have of finding a wine you'll never forget the name of again.

---
About Melissa Auman Greiner:
A born and bred Philly girl with a soft spot for the city's growing food and wine scenes, leafy green squares and sultry summers. Just don't get her started on the inadequacy of SEPTA. With nearly 10 years of experience covering the city for a variety of newspapers, magazines and websites, it hasn't just been her pleasure to visit Philly's best bars and restaurants -- it's been her job. And with an advanced certification from the International Sommelier Guild under her belt, she brings her city savvy and wine know-how together to deliver Drink Philly readers the latest info on Philly vino. Twitter
---
Recent Articles

Feedback
How are we doing? Tell us what you like or don't like and how we can improve. We would love to hear your thoughts!