Brews for Man's Best Friend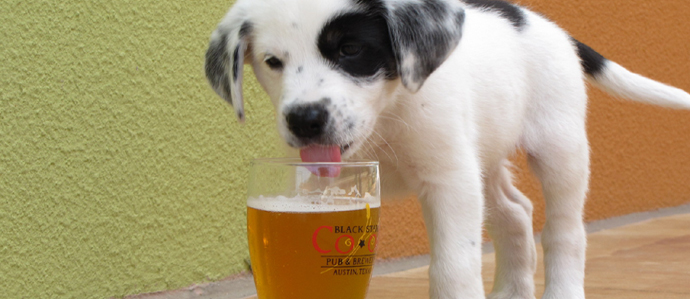 We thought we'd seen just about everything, but it seems that there are several "beers" floating around that are intended for canine consumption. However, don't worry about your dog gettin' hammered and knocking things over or drunk dialing his ex-girlfriend or anything.
Since alcohol, hops, and carbonation can be potentially bad for your dog's health, some measures have been taken. The beverages are not technically beer, as they are not fermented, but they're made largely from malted barley and filtered water. Then it's fortified with Vitamin E and natural beef flavor, so even if there's no alcohol, our editor would probably still drink it.
Since around 2007, a number of malt beverages have shown up around the world, beginning with the Kwispelbier from the Netherlands. A pet shop owner, Terrie Berenden, contracted a local brewery to brew and bottle Kwispelbier, which is Dutch for "wagging a tail." It was introduced to the market in 2007 advertised as "a beer for your best friend."
Since then, a number of others have shown up, including Bowser Beer, DogBeer, and Happy Tail Ale.
Needless to say, this is a fantastic setup for endless "Yappy Hour" puns.
Related Articles:
Recent Articles

Feedback
How are we doing? Tell us what you like or don't like and how we can improve. We would love to hear your thoughts!