Washington's Homebrew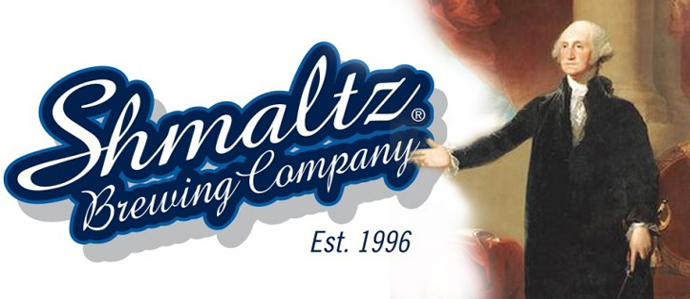 With American craft beer week coming up, my love of beer has me pondering what my favorite historical figures drank. I know now, that beer throughout history wasn't exactly what it is today. Today we live in a beer culture that inspires creativity in the industry. Technology has advanced and beer has advanced with it. We are blessed with the capability and means to enjoy some of the best beer the world has ever seen. Still, I can't help but wonder at times what our founding fathers may have enjoyed on a beautiful spring afternoon (and we all know our founding fathers loved their beer).
Many of us are already quite familiar with Yards Brewing Company's Ales of the Revolution, which takes Colonial-era recipes (such as Washington's) and brings them to our local pubs. More recently, the New York Public Library has teamed up with California-based craft beer company Shmaltz, to recreate Washington's brew, based on a journal entry by Washington from his time in the military. The ingredients list is a simple one: bran hops, yeast and molasses, and is to stand until "blood warm". The beer is being brewed to celebrate the centennial of the library, the Stephen A. Schwarzman building. Just 15 gallons of it is being made for the festivities.
Of course, brewing techniques three hundred years ago were much different than they are now. Founder of Shmaltz brewing, Jeremy Cowan, mentions that the recipe was a little tricky to work out. The beer was made in two different batches, one true to Washington's original recipe, was brewed with molasses. Another was modernized, substituting the molasses for malted barley, as the yeast needed a fermentable sugar to process.
Tasting notes from company brewers have described the beer as "Pretty light, pretty dry, medium-bodied but roasty. We used some roasted malts in there so it's definitely got some of a roasted, chocolaty, little bit of a coffee flavor."
The gala is to be held at the library on May 23rd, the day after American Craft Beer Week ends. With only 15 gallons of it being made, not many people will get to sip some of the beer that's been named "Fortitude's Founding Father Brew."
Craft beer has come a long way and it's comforting to know that brewers still have an appreciation for both our countries history, and that of our favorite beverage. And although the beer that I'll be enjoying during craft beer week is much different than Washington's, I'd like to think he'd be proud of where we've come to in brewing.

Related Articles:
Space Beer is Finally Here!
Ancient Egyptians: First Medicinal Use of Beer?
Recent Articles

Feedback
How are we doing? Tell us what you like or don't like and how we can improve. We would love to hear your thoughts!