Man Invents Robot Drinking Buddy So He'll Never Drink Alone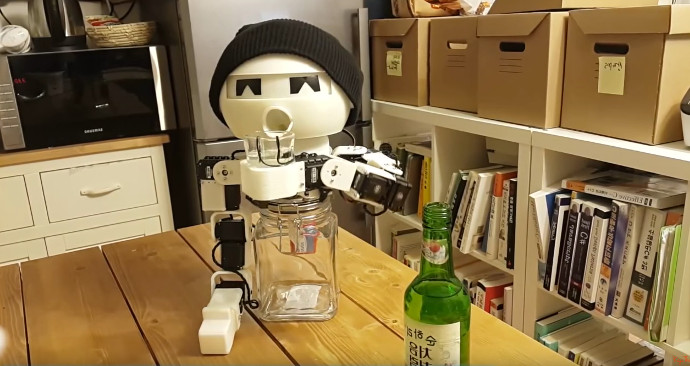 Usually, if you want to see something that's both sad and cute at the same time, you have to sit through those annoying Sarah McLachlan commercials about abandoned puppies. Now, however, you can experience something that is slightly less cute than a puppy, but infinitely more sad:
Drinky, the drinking buddy robot
. While you're drinking alone at home, Drinky points to his shot glass, and then when it's full he'll give you a little cheers and
drink down whatever is in the glass
(which ends up in his mason jar body). His cheeks even flush red after each shot, so you don't have to feel like a total alcoholic who had to buy a robot to get drunk with.
While Drinky is totes adorbs, the story behind him is not. Creator Eunchan Park says, "On Christmas in 2012, I drank Soju alone because I had no girlfriend at that time. Drinking alone was definitely terrible! So I couldn't drink anymore. Lastly, I put an extra glass in front of me and poured Soju into it. And then, I cheered by myself with the glass of Soju, as though there was someone in front of me." He seems to have left out that in addition to not having a girlfriend, he also didn't have any kind of friends at all. And even sadder than drinking with a robot is pouring two glasses to pretend that someone else is there. This guy needs a friend probably more than anyone I know.

Unfortunately, if you're the type of person who needs a robot to drink with because no one else on earth loves or even likes you, there are no plans to produce Drinky for the masses. He is, however, at Seoul's Art Center Nabi's "Robot Party," a collection of robots focused on "emotional communication between machine and human being." So, you know, if you head out there to visit Drinky, maybe you could also pick up a robot to snuggle with you, or a robot that can stand to look at you. The possibilities are endless!
Photo via YouTube user Raja That!
Tags:
Cocktails
,
Spirits
Recent Articles

Feedback
How are we doing? Tell us what you like or don't like and how we can improve. We would love to hear your thoughts!