Massachusetts Man Sues Guinness for Sometimes Being Brewed in Canada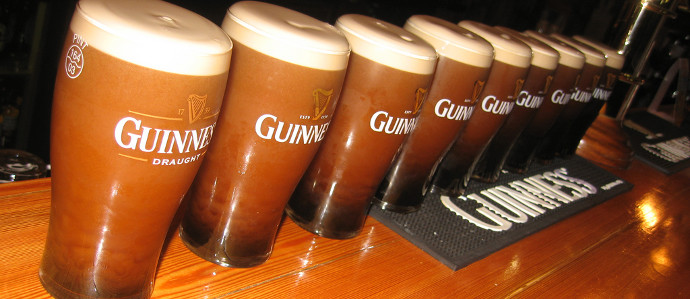 In the latest frivolous beer lawsuit, Massachusetts idiot
Kieran O'Hara is suing Diageo
over the fact that
a small percentage of Guinness Extra Stout is brewed in Canada
and not in Ireland, claiming this tidbit constitutes deceptive marketing on Diageo's part. The class action lawsuit, which is in excess of $5 million, claims that the members of the suit were tricked into paying a premium for the beer that wasn't actually brewed in Ireland.
There are a few things wrong with this, despite the obvious fact that the claimant is merely looking for free money. If you're paying a "premium" for Guinness, you're either getting ripped off by the bar and not the brewery, or you have no idea what premium beer prices actually are. It also assumes that a beer is "premium" simply based on where it is made, which is absolutely not the case—unless you want to count Cusquena as a premium beer because it's brewed in Peru (it's not—it's an adjunct lager that is barely above average) and say that Heady Topper isn't premium because it's brewed in America.

If Diageo was misrepresenting the ingredients in Guinness, that would be one thing, but the place where the beer is brewed does not make it premium, and those who think so should stick to Miller Lites.
Alas, though, these clowns will probably get somewhere. Earlier in 2015,
Beck's reached a $20 million legal settlement
over misrepresenting that it was brewed in Germany—a lawsuit that probably got the money-grubbing Kieran O'Hara thinking about how he could get in on the action, too.

So, does anyone want to join me in suing Boston Beer Co. for brewing some of their beer in Lehigh Valley, PA?
Photo via Flickr user
John Picken
Tags:
Beer
Recent Articles

Feedback
How are we doing? Tell us what you like or don't like and how we can improve. We would love to hear your thoughts!