The Chambong Makes It Almost Acceptable to Guzzle Your Bubbly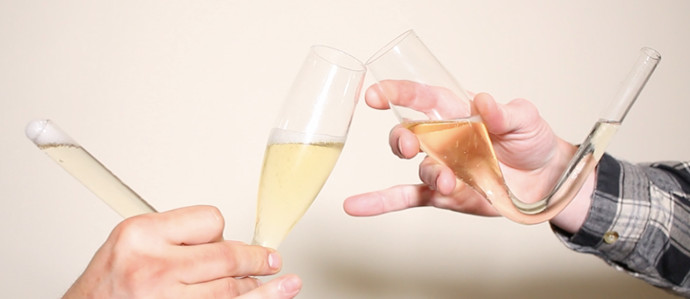 If there's one drink that brings to mind class and sophistication, an elegant celebration, or a fancy accompaniment to a delectable brunch, it is champagne. And now, in the latest proof that Americans just can't have nice things, we bring you the Chambong: a champagne flute with a spout at the bottom that lets you pound a glass of champagne in seconds. If this sounds like an awesome invention to you, I hope you enjoy using it to toast the next Sprint Cup winner with all your trailer park friends.

As you can probably tell by the "#ClassyAF" Chambong t-shirt, this is really the must-have drinkware for only the most sophisticated West Virginian. And the company's tag line, "Because it's awesome," must have duped some poor hayseeds, because the first limited run of 3,000 has already sold out. But worry not! Your next upper crusty, high falutin' party may not have to suffer—they are currently working on another limited batch of Chambongs, and at the low price of $25 each. You know what else you could do with that $25? Buy a bottle of champagne and drink it like a functioning member of society.

This is the perfect gift for anyone who likes to shotgun beers in the parking lot of a Lynyrd Skynyrd concert but wants to kick the classiness up a notch. The website says it's even great for weddings! And if you do have it at your own wedding, congratulations—your sister is a very lucky girl. Be sure to get on the mailing list, because once they have more for sale they're apparently going to sell quickly, and you wouldn't want to disappoint your sister-wife in front of Uncle Dad at Christmas.
Photo via Chambong
Tags:
Wine
Recent Articles

Feedback
How are we doing? Tell us what you like or don't like and how we can improve. We would love to hear your thoughts!