Creep Out All Your Friends with a Fake Baby Filled with Booze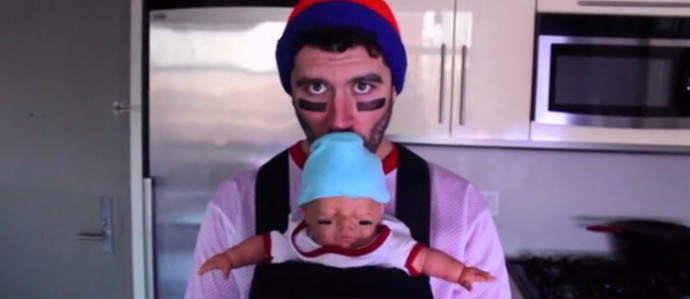 One of my favorite stories of sneaking alcohol into a sporting event comes from the Cleveland Browns' Dawg Pound, the rowdy section of bleacher creatures at the end zone. Every week, to celebrate their nickname, a group of fans would bring a dog house to the game. That is, until security noticed that it always took six people to carry the dog house into the stadium, but only two to carry it out—because they were sneaking a full keg into each and every game.

While
The Cool Baby
—a fake, hollowed out baby with a straw coming out of its head—may match, or even surpass, that kind of ingenuity, the dog house certainly wins out on being infinitely less creepy. And while the Kickstarter for this humanoid sippy cup says "drinking in public is now adorable," it will be anything but. The baby, which is probably the first product to use the phrase "drink-insulating torso," holds a 36-ounce beverage container inside its hollowed-out body for your drinking enjoyment.
Other than being a great way to creep people out and avoid pesky conversations with the opposite sex, there doesn't seem to be much benefit to the Cool Baby. It offers a hands-free drinking experience, but what does that accomplish? Anything worth doing while drinking—whether it's cooking, hanging out, tailgating or playing a game—we've figured out how to do it with one hand while we hold a beer. And there is no way you're sneaking this thing into a sporting event—any security personnel would have to be drunk themselves to not see how exceedingly fake this baby looks.

If you'd like the nightmares without having to pay for the fake baby, watch the video below of the product's
Kickstarter
, which features a grown man nearly constantly suckling on a baby's head. That should go over great—everyone will want to head to your tailgate to see a group of adults slurping from a baby doll's skull.
If you absolutely must sneak booze around, we recommend sticking to barnoculars.
Photo via Kickstarter
Tags:
Beer
,
Cocktails
,
Spirits
,
Terrible Ideas
Recent Articles

Feedback
How are we doing? Tell us what you like or don't like and how we can improve. We would love to hear your thoughts!