Narragansett Resurrects the Great Old Ones with HP Lovecraft Series of Beers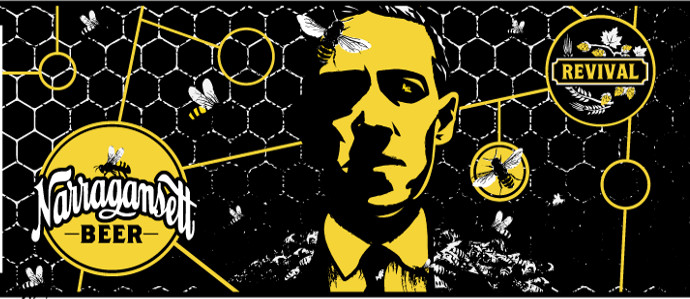 Narragansett Brewing Company, in keeping with their Rhode Island roots and recent collaborations with RI-natives Del's Lemonade and Autocrat Coffee Syrup, has opted to undertake another Rhode Island-centric collaboration—but this time with a slightly more sinister twist. The brewery will be paying homage to Providence-born HP Lovecraft, one of the most influential horror writers of the 20th century.
Despite being a teetotaler and probably despising something like this, the brewery will release their Lovecraft Honey Ale on January 19, the birthday of Lovecraft's biggest influence, Edgar Allan Poe. The line of beers, which will top out at four, celebrates the 125th anniversary of both Narragansett and HP Lovecraft. The inaugural offering will be a mead-like beer, using honey, five different kinds of malt and Summit and El Dorado hops, brewed in collaboration with fellow RI brewery, Revival Brewing Company. The beer is based on the Lovecraft story "The Festival," in which a winged creature drinks space mead.
Next in the series will be Innsmouth Old Ale, inspired by the novella "The Shadow Over Innsmouth." It will be released in April, followed by two as-yet unannounced beers. And while Game of Thrones beers may dominate the must-have lists a bit more, any fan of terrible movies, old-timey horror, or just drinking Narragansett beers should be looking forward to these coming releases. Cthulhu will certainly be dreaming of them.
Photo via Narragansett
Tags:
Beer
Recent Articles

Feedback
How are we doing? Tell us what you like or don't like and how we can improve. We would love to hear your thoughts!