Return Your Unwanted Gifts...For Booze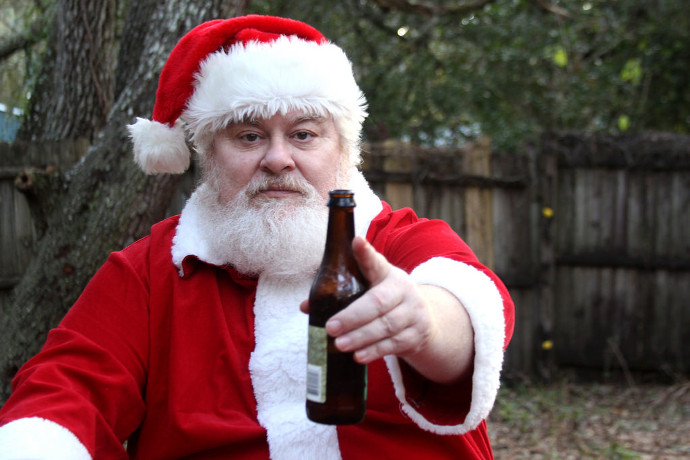 If there is one thing that rings true every Christmas along with the family, friends, overeating, gifts, and napping, it's that you're going to get a gift you don't like. Or a gift that isn't even close to being the right size for you. The first—and easiest—instinct is always to take it back to the store it came from and exchange it for something at that store. But that's what lazy people do—and that's not going to get you any alcohol. We've put together a quick guide of your unwanted items and how to get the most bang for your (free) buck after all the wrapping paper is gone.
Socks and Underwear
Christmas is supposed to be fun, isn't it? If I wanted socks and underwear, I'd go buy it myself on any random Tuesday. I want something that's going to make me happy on Christmas. Gather up any undergarments some enterprising significant other got for you and send them back—two packages should come out to right around $15. Now, take that $15 to any local bottle shop and pick yourself up a nice six-pack…or two okay six-packs. Or a really crappy case of beer. Either way, beer is better than socks.
A Tie
If you're a dad and you have kids, you'll probably get a tie. Hopefully the kids didn't skimp on it and you can return it for around $30—which should be enough to get a nice case of local craft beer, or at least really offset the price of one. If not, go out and get two bottles of wine—you can find some great bottles in the $12-15 range. Good thing you got that tie for Christmas!
An Ill-Fitting Sweater
Sure, it's a nice sweater and it's got a famous guy's name on it, but the sleeves are just a little too short. Great! Sneak out later in the week and get someone else's $60 back so you can swing up to the liquor store. Now, that nice bottle of Scotch or bourbon you've been eying up? Looks like Santa got you exactly what you wanted, just a little late. Or extremely early.
An Engagement Ring
When you're done rolling your eyes, be sure to tell your "fiancée" to quit being lazy—there are about 350 days of the year that aren't already holidays. Tell them to be original and pick one of them instead of Christmas, and then to return the ring and get you a home Brew Cave. It will show their love much more than a ring.
A New Car
You woke up on Christmas morning to find a car with a bow outside? BO-RING. You've already got a car, and besides—you live in the city where public transportation is the way to go and parking is a bear. Thanks for making your life more stressful! Now take that parking ticket generator back to the dealership and go nuts—get yourself a couple bottles of Pappy, a few Utopias, or The Macallan 55 year old in a Lalique Crystal Decanter, which retails for about $12,000.
A Puppy
Actually, keep the puppy. But teach it to fetch you a beer when needed.
Photo via Flickr
Tags:
Beer
,
Cocktails
,
Gifts
,
Holiday
,
Spirits
Recent Articles

Feedback
How are we doing? Tell us what you like or don't like and how we can improve. We would love to hear your thoughts!