Going to Nevada? Check Out the Budweiser of Brothels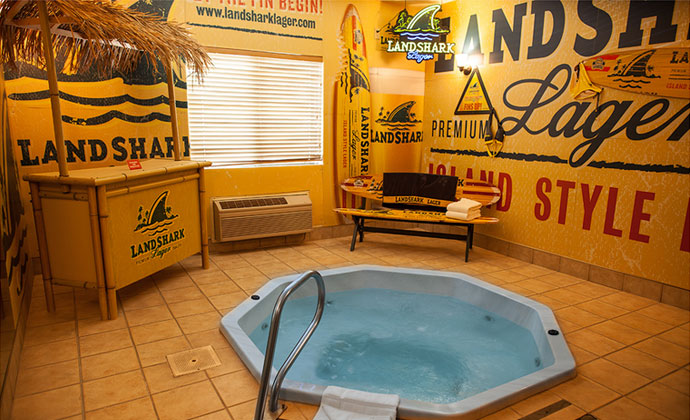 When someone mentions a "Jacuzzi sex room" (actual name) decked out floor-to-ceiling in Landshark Lager paraphernalia, it's not hard to imagine this redneck dream room hastily assembled in the back of someone's trailer in Arkansas, complete with jean shorts and trucker hat dress code. But, thankfully for all of us, this magical place does actually exist, but in the much classier Sheri's Resort and Spa, a legal brothel appropriately placed in Pahrump, NV, about 60 miles from Las Vegas.
The room is dedicated to all things Anheuser-Busch, and even gets full remodels based on whatever they are currently pushing. In 2012, it was turned into the aforementioned Landshark Lager experience, and we can only hope that nowadays it's become a full-on Sex-A-Rita party room. The surprising part, though, is not that Anheuser-Busch is sponsoring a room in a legal brothel that is used for a very specific purpose (which hopefully doesn't involve the "fizzy yellow stuff" Greg Koch talks about) but that they've now been sponsoring it for 10 years. This from a company that recently lashed out at the NFL for their low moral standing.
While likening something to Bud Light usually means it is flavorless, mass-produced, and generally inferior, would Sheri's consider themselves the Bud Light of brothels? Are these the Bud Light of working girls? And what do sex in a brothel's Jacuzzi room and Bud Light have in common? Well, you probably already know the answer to that one.
Photo via Sheri's
Tags:
Beer
Recent Articles

Feedback
How are we doing? Tell us what you like or don't like and how we can improve. We would love to hear your thoughts!