Samuel Adams' Jim Koch Announces Homebrew Longshot Winners at GABF
Homebrews and Cru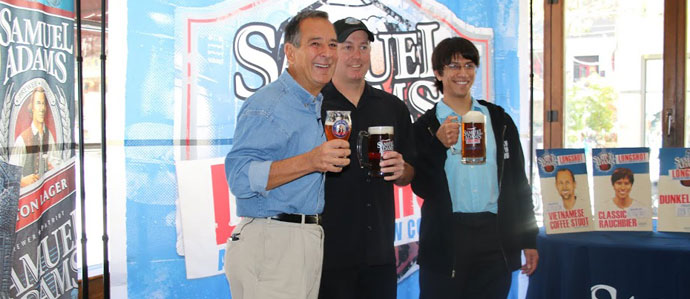 Once again the Great American Beer Festival was the setting for the biggest competition in home brewing, the Samuel Adams Longshot contest. Four homebrewers from around the country won a trip to Denver to visit GABF and to learn who the top two homebrewers would be for 2014.
What began as a home brewing competition for Samuel Adams employees was opened up to the public in 1996. Jim Koch says that five previous Longshot winners have now gone on to open their own breweries.
Held at Marlowe's on the 16th Street Mall, Samuel Adams and Boston Beer Company held a brunch and beer tasting for the finalists and invited guests. Along with the home brew finalists, Sam Adams debuted two new beers for tasting.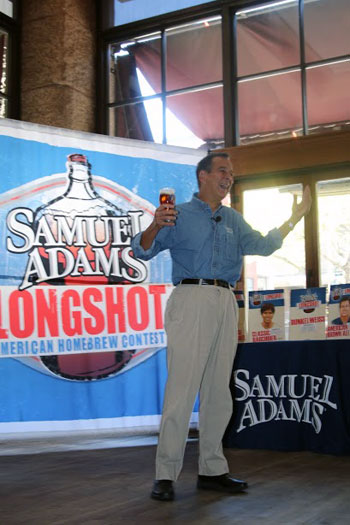 The Rebel Rouser is the newest style from Boston Beer. This Double IPA features five different varieties of all-American hops: Amarillo, Cascade, Centennial, Simco and Zeus. This new hop-forward brew will be available to the public in February 2015.
Guests also had a chance to sample a 2014 limited release brew, the Kosmic Mother Funk Grand Cru. Part of the Barrel Room Collection, this crazy tart and sweet beer was only released in 11 US cities, including Denver. Aged in large oak barrels, the beer bounces between tart dark fruity flavors and a sweet vinegar bite at the finish. Check the website to find a city near you to try this incredible beer while it lasts.
Also available for tasting were the Longshot winning beers. These four beers were voted on by a panel of esteemed beer writers, beer judges and Boston Beer founder, Jim Koch himself. The four finalists and their beers were:
Kerry Martin who made an American Brown Ale. Kerry's brother Kory was a Longshot finalist back in 2011;
Greg Rasmussen who made a Robust Porter;
Matthew Knott who made a Classic Rauchbier;
William Viesen who made a Vietnamese Coffee Stout.
The two Longshot winners were Matthew Knott and Greg Rasmussen.
Two bottles of each of the winning beers will be featured in a special variety six-pack along with two bottles from the Samuel Adams Employee Longshot winner. This variety pack will be available in the spring of 2015.
Is your home brew a Longshot? Consider entering next year's competition. Check the Samuel Adams website for updates and entry information for next year.
Tags:
Beer
Recent Articles

Feedback
How are we doing? Tell us what you like or don't like and how we can improve. We would love to hear your thoughts!