Forgotten Boardwalk Preps for a Long-Awaited October Opening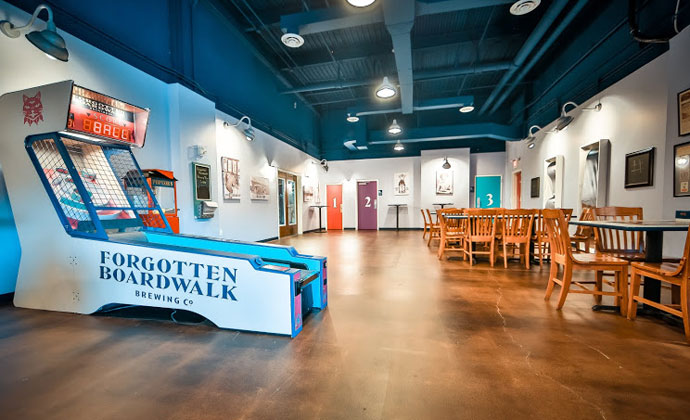 The summer of 2014 was a slow season for New Jersey brewery openings. Jamie Queli knows that first-hand. As the owner of Cherry Hill's Forgotten Boardwalk Brewing Company, Queli and her team were tied up in red tape all summer. The anticipated early-season opening of the brewery that occupies the former Flying Fish Brewing Company came and went, as did the rest of the summer.
But that's changed now, and Queli and her team are ready to open the doors to the public this month. Queli, along with head brewer David Bronstein and a small but dedicated staff, have been hard at work preparing a handful of new beers to serve to guests at their October 11 grand opening. The brewery held their first soft-opening on September 28 for members of their Refuge Society, a members-only club that Queli created for craft beer lovers in the area.
We spoke with owner Jamie Queli to hear about their long-awaited opening, the Refuge Society and what's ahead.
DrinkPhilly.com: So I'm sure you're glad that summer is done and over with.
Jamie Queli: It was a long, terrible summer. It wasn't anything that I was anticipating, but there was a new director of the ABC [New Jersey Alcohol and Beverage Control] that we weren't anticipating. The former director of the ABC was our attorney through the process, and even he said that he wasn't expecting it to be so difficult.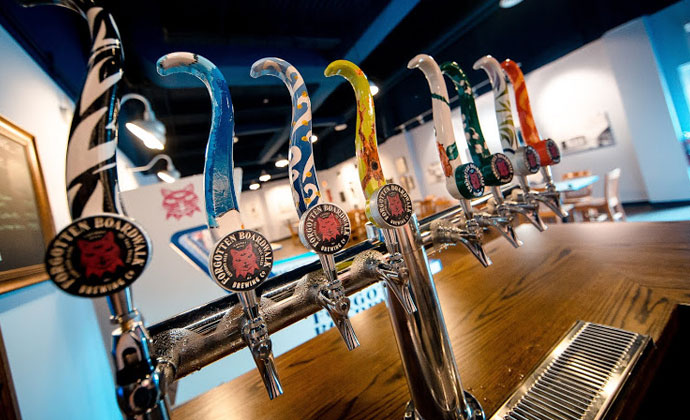 DP: There was a lot of buzz surrounding your opening. Did that make it harder?
JQ: I feel like Forgotten Boardwalk has gotten a lot of criticism from all angles, I don't know if it's more or less than with other breweries. But there was so much anger floating around in the summer time and I couldn't say much, because legally I wasn't allowed to say a lot of things and also because I was just as frustrated as everyone else. But we're happy to have that behind us.
DP: And now you're gearing up for an October 11 opening. What can guests expect?
JQ: For the opening we've been brewing away. We have our IPA, which we could already serve but we really wanted to do it right. We're doing a double hopping process with some dry hopping. We're going to have our smoked porter ready and our funnel cake ready [for the opening]. Yesterday, our Chai Tea was such a huge success and so we're thinking of making that a winter seasonal. A lot of people do brown ales in the winter and I like those, but I think it might be fun to do something else too.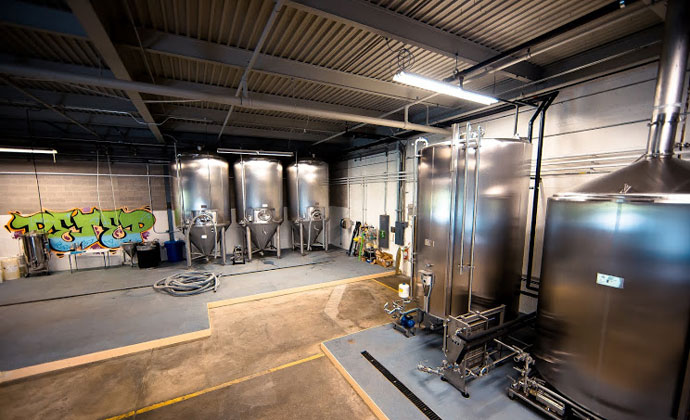 DP: What are you most excited about?
JQ: There's a lot of things I'm really excited about. The space is so great. I'm so excited to open the doors and showcase the graffiti and the tasting room. I love being in New Jersey, and I can't wait to showcase the beers. And I'm excited for David; I'm excited for people to see what he can do.
DP: You've already got cans available for sale. Was it your plan to get canning right away?
JQ: We've got prototype cans, and we are getting fully printed ones but there's a lag time to that so we decided to start canning right away. [Head brewer] David [Bronstein] comes from a canning background so I really wanted to highlight that. Because of the way we can can we have the capability of doing smaller batches of cans. We don't have to do pallets or anything so you can see a lot of specialty beers in four packs, beers you might not see canned at other breweries.
DP: What are your goals with Forgotten Boardwalk?
JQ: We want to be a brewery for events. For the opening we hope to have a few food trucks and balloons and make it a little special. We want to do a winter craft show and a food truck festival, and we're always trying to think of some type of new event. And we'd like to try and get a skee ball league going, maybe even form a skee ball team for Refuge Society members.
DP: And what about the Refuge Society? What are your plans there?
JQ: Right now we're just trying to do some pop-up openings. Then, we sort of plan on doing a work in progress. We want to have one exclusive day a month for all Refuge members, to showcase a variant or special bottle just for members. They're our fans but they're also my harshest critics.
Forgotten Boardwalk's grand opening takes place this Saturday, October 11, from 12–8 PM.
Forgotten Boardwalk, 1940 Olney Ave.; 856-437-0709
Photos by Dan Neuner
Tags:
Beer
,
News
Recent Articles

Feedback
How are we doing? Tell us what you like or don't like and how we can improve. We would love to hear your thoughts!