Anheuser-Busch Issues Strongly-Worded Statement to NFL, Running Back LOLs in Their Face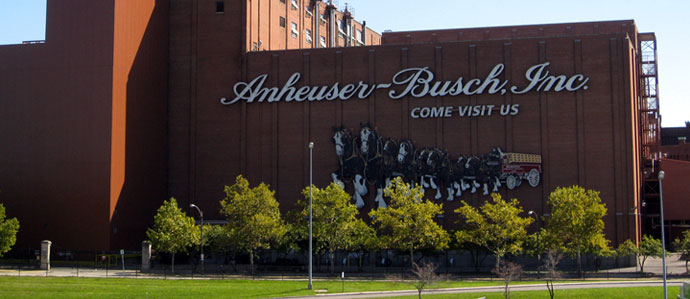 In the wake of recent developments in legal situations involving Vikings running back Adrian Peterson and former Ravens running back Ray Rice, the NFL has been, um, fumbling around (BOOM! That's a sports metaphor!) trying to determine the best course of action.
Peterson was indicted by a Texan grand jury on charges alleging he beat his 4-year-old son with a switch and left wounds on the boy's leg and private parts that were visible weeks later.
Rice hit his fiancee in the face while the two were in a casino elevator in Atlantic City and knocked the woman out cold. The NFL had already handed down a decision in this case, suspending Rice for two games, but video of the incident hit the Internet after Week 1 of the season and holy sh** is it awful. Rice was dropped by the Ravens and suspended indefinitely by the league. Officials say that Rice misled them in their investigation as to what happened inside the elevator, resulting in the measly, original two-game vacation for Rice.
So, where does Anheuser-Busch come in? Well, they're the official beer of the National Football League and they were none too pleased with the way these awful accusations and incidents have been handled. The company released a statement on Tuesday:
"We are disappointed and increasingly concerned by the recent incidents that have overshadowed this NFL season. We are not yet satisfied with the league's handling of behaviors that so clearly go against our own company culture and moral code. We have shared our concerns and expectations with the league."
Oof.
NFL officials responded with the generic, PR-conscious response you'd expect 'em to cook up in such a scenario, but not all of their employees were taking Anheuser-Busch's public scolding to heart. Houston Texans running back Arian Foster took to Twitter to tell the world he found it comical that a company that sells alcohol would try to be the moral compass for anyone:
Lol ok, alcohol company. RT @darrenrovell: NFL beer sponsor, Anheuser-Busch, issues strong statement pic.twitter.com/TCEbA4s5Q1

— Arian Foster (@ArianFoster) September 16, 2014
Selling poison on that high horse.

— Arian Foster (@ArianFoster) September 16, 2014
Domestic violence and alcohol damn near synonymous.

— Arian Foster (@ArianFoster) September 16, 2014
Stay tuned to find out whether the NFL hits Foster with a fine for bad-mouthing a sponsor on social media and how it compares to the $58,823 fine originally handed down to Rice for knocking his now-wife unconscious.
Photo via Flickr
Tags:
Beer
,
Sports
Recent Articles

Feedback
How are we doing? Tell us what you like or don't like and how we can improve. We would love to hear your thoughts!