Pit Stop: Craft Breweries on the Way to the Shore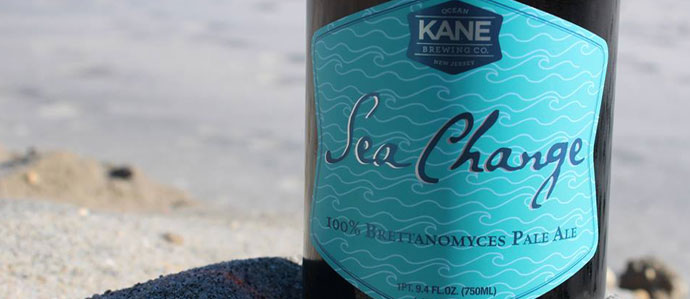 Is there anything more relaxing than some time at the Jersey Shore? The waves; the sun; the total lack of responsibility. It can get pretty addicting.
And for craft beer lovers, that experience can only get better with a bottle or two- or three- of a great brew. But when looking to try something new, did you know that you could find great, local beers at the ready in and around the Jersey Shore?
Check out these craft breweries next time you're heading to the beach. Whether stopping for a beer and a meal, a quick tasting or if you're looking to reload your growlers, these breweries are a convenient stone's throw from your favorite seaside retreat, and have more than enough to offer.
Cape May Brewing Company (1288 Hornet Rd., Rio Grande; 609-849-9933)
Just a few miles from Cape May in Rio Grande sits this rapidly-growing brewery, with hops so fresh they grow on a vine out front. Consider signing up for their Mug Club, because the beer list changes by the day. They've put out almost 60 different beers since their inception in 2011, and while their bottling line is still young, you can get growler fills in either 64-oz. or 32-oz. to bring to your shore house.
Tuckahoe Brewing Company (9 Stoney Ct., Oceanview; 609-827-5375)
The Tuckahoe team has been brewing together at the Jersey Shore since 2006, creating locally-inspired beers by the six-pack and the 12-oz. bottle that have spread across South Jersey. You can get your growler fill of anything from Reed's Bay IPA to the local favorite Marshallville Wit. They're also available on tap or in liquor stores up and down the Jersey Shore.
Tun Tavern Restaurant and Brewery (2 Convention Blvd., Atlantic City; 609-347-7800)
Former Flying Fish assistant brewer Tim Kelly has been charged with producing draft and bottle beers for Atlantic City's only brewery and restaurant since 2007. Him and his team produce a series of eight draft beers and one bottle variety, including a barleywine, oatmeal stout and Dunkelweiss. All the beers are created to pair with the salads, burgers and sandwiches on the menu, but growlers can also be taken to-go.
Rinn Duin Brewing (1540 Route 37 W., Toms River; 732-569-3261)
The creators of this three-year-old brewery were inspired by their Irish heritage, creating Irish and British brews just a short throw from the Jersey Shore. From an Irish Red to a Coffee Stout, their beers don't stray from Great Britain, and has drawn quite a following in their few short years. You can even reserve a keg to bring with you for your next beach party.
Kane Brewing (1750 Bloomsbury Ave., Ocean; 732-922-8600)
Though it's only been around since 2011, Kane has erupted into one of the Jersey Shore's most beloved breweries. You can always access their year-round beers, like Head High and Overhead IPA, or take a dip into their "Tidal Series," which changes with the seasons. You can find them by the bottle, but they also tap a line-up of Mysterioso beers, experimental brews made in their test system that are only available for those visiting their tasting room.
East Coast Beer Co. (528-D Arnold Ave., Point Pleasant; 732-202-7782)
There's few breweries more fitting at the Jersey Shore than the East Coast Beer Company, which produces a light and refreshing bottled beer aptly named Beach Haus. The brewery creates beers to last all season, though Beach Haus is by far the most popular. While they currently don't offer brewery tours, they recently approved plans on a Belmar location, so you can step off the sand and step right up to the bar.
Pinelands Brewing Co. (140 S. 7th Ave., Little Egg Harbor; 609-296-6169)
That long, seemingly-endless drive through the Pinelands on the way to the beach gets a little easier with a stop at Pinelands Brewing Company. From IPAs and porters to a Pitch Pine Ale and Masons Wheat, the beers here are always changing with the season. And this is the first summer that guests can get a full tour of the brewery, and try tastings of whatever's on tap before taking a growler to-go.
Glasstown Brewing Company (10 Peterson St., Millville; 856-327-7770)
New to the brewery scene is Glasstown in Millville, a stop on the way to the Shore that creates beers with shore-goers in mind. Like their Fisherman's Ale Collection, which plays homage to the commercial and sport fisherman of Cape May and Fortescue. For a brewery that's less than a year old, the sprawling beer list is impressive and includes a full range of brews to match whatever you're preparing for dinner at the Shore House.
Carton Brewing (6 E. Washington Ave., Atlantic Highlands; 732-654-2337)
With around 20 seasonally-inspired varieties you'll find plenty to enjoy this summer, and plenty of flavor. This brewery has grown to be one of the biggest at the Jersey Shore, though they never forgot their roots. In fact, they still produce tasting-room only drinks from their 20-gallon pilot system.
Artisan's Brewery (1171 Hooper Ave., Toms River; 732-244-2566)
This small-batch brewery and restaurant creates around a half-dozen of constantly-rotating seasonal and specialty beers to pair with their menu. You can get six samplers and try all their brews with your meal, or sign up for their Beer Club Membership, which gives members a discount on house-made beers and brews from their extensive craft bottle and draft list.
Photo via Kane Brewing
Tags:
Beer
Recent Articles

Feedback
How are we doing? Tell us what you like or don't like and how we can improve. We would love to hear your thoughts!