Beer Review: River North Brewery's Hoppenberg Uncertainty Principle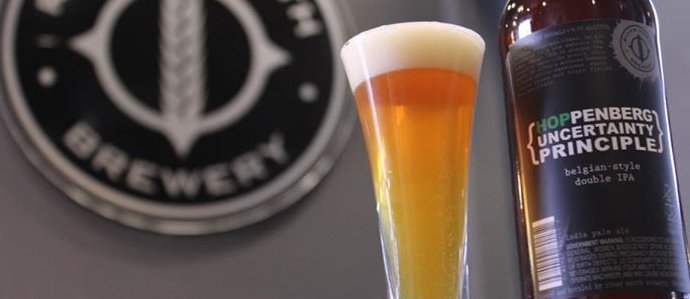 Beer lovers looking for a liquid version of "Game of Thrones" to make their lives less miserable until the series' next season need look no further than River North Brewery's Hoppenberg Uncertainty Principle. That is to say, the Belgian-style double IPA resembles the plot of HBO's groundbreaking show; it's complex and addictive.
Served in a 10-oz. snifter in River North's smallish taproom no more than an arrow's flight from Coors Field on Blake Street, Hoppenberg looks like a small, cloudy burnt orange bulb underneath a modest layer of creamy foam that quickly goes the way of Ned Stark.
Let Hoppenberg warm slightly and its aroma will pleasantly mix caramel and orange with a very mild funkiness. At 9 percent ABV and more than 100 IBUs, Hoppenberg could stand up to Gregor "The Mountain" Clegane in a trial by combat. But even with all that bitterness and alcohol, Hoppenberg skillfully mixes sweet, bitter and sour tastes into a potion that would make even the late lamented Tywin Lannister smile. Hoppenberg's multi-layered flavor profile means there's much to explore and enjoy throughout your pour, but its finish is fairly clean for a beer featuring a Belgian-style yeast strain and enough hops for a wedding in King's Landing.
Though Hoppenberg has received an accolade here and there, it remains one of Denver's hidden delights. As the Mile High City's beer scene continues to grow as rapidly as the Game of Thrones cast of characters, it's easy to get overlooked like an imp. Due to the beer's unique combination of flavors, a food pairing for Hoppenberg might at first seem as unlikely as Arya Stark and The Hound. I'm going to go with steak or braised pork, and it wouldn't be surprising if it went down well with fondue.
Available at the River North taproom and in 22-oz. bombers in local liquor stores, Hoppenberg is a sipper pretty much year round, though, I wouldn't want to drink this complex excellence in the dead of an arid, hot Denver summer. Thankfully, winter is coming.
Photo: River North Brewery
Tags:
Beer
Recent Articles

Feedback
How are we doing? Tell us what you like or don't like and how we can improve. We would love to hear your thoughts!