St. John Brewers and the Tap Room Brings the Craft Beer Revolution to the US Virgin Islands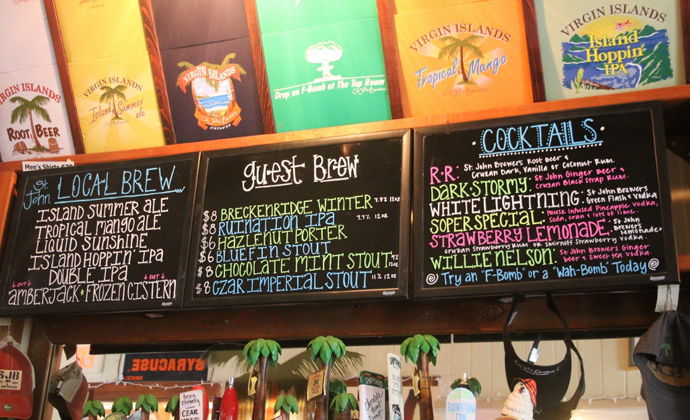 While summer is just about to come around again on the calendar, many places across the country are still in the throes of waking up from last winter's nagging chill. With vacation season finally here, perhaps you might be thinking about heading to a warm tropical island for a getaway. Here's one that has its own beer.
St. John is a tiny island that is part of the US Virgin Islands in the Caribbean and the smallest of the three islands that make up the territory (the other two are St. Croix and St. Thomas), but it has something that sets it apart from these other islands, really good craft beer. Two college buddies and expats from the University of Vermont have been brewing tropical hoppy goodness for there for a while under the flag of St. John Brewers.
Kevin Chipman and Chirag "Cheech" Vyas started St. John Brewers after they came to the island to leave the real world behind. They moved here without jobs and spent their first month living on a boat with no electricity. Once they found bartending jobs, their financial situation improved and they realized that St. John was the best place on earth, except for one thing.
"The only beer they had here was Bud Light, Heineken and Heineken Light" says Chipman. That wasn't enough to satisfy two palates that were used to some of the best craft beers New England has to offer. So after a trip to the local library, they ordered a $50 brewing kit and began making their own. They started in the early 2000s with a Pale Ale that included a local mango extract because they wanted their beer to be unique to St. John. After getting rave reviews from friends they decided to parlay it into a business.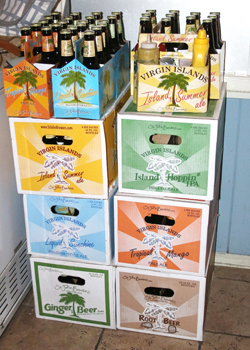 They purposely called this first beer Virgin Islands Pale Ale because they wanted people to try the beer based on its own merits.
"We called it Virgin Islands Pale Ale, but on the neck of the bottle it said Tropical Mango so people knew what they were getting," he says. "We didn't want to get lumped into that 'fruity beer' category right off the bat. We wanted people to know this was a true Pale Ale." The beer is now called Tropical Mango Pale Ale and tastes exactly as described, a lightly crafted pale ale with a golden-orange color. The taste contains just a hint of mango that's a slightly more tart than sweet with a hop finish. The beer is now the signature beer not just of St. John Brewers, but of the Virgin Islands.
The next logical step was their own place to showcase these beers. The Tap Room opened before Thanksgiving 2006. Housed in a former retail store at Mongoose Junction in Cruz Bay, The Tap Room now has 16 taps, with specially made palm tree-shaped taps for their own beers, as well as guest beers from the mainland. On a recent visit, beers from Breckenridge Brewery in Colorado and Stone Brewing in California made an appearance. The kitchen serves up lunch and dinner including Bavarian pretzels, sandwiches, hot dogs, salads and pizza.
Other SJB beers include Island Summer Ale, a filtered half-wheat, half-pale ale; Liquid Sunshine Ale, a Belgian-inspired unfiltered wheat with coriander and Curacao orange peel; and Island Hoppin' IPA, a malty brew with a citrusy accent. They also have Amber Jack, the Frozen Cistern Winter Ale and a coffee Irish Stout, which they brew seasonally in small batches available only on draft at the Tap Room.
The brewers' latest beer to appear in bottles is Massive, a double IPA that the guys have been perfecting over the last few months. Available in bomber bottles, the beer has a crisp hop taste with a tropical botanical finish that's perfect for warm island weather. SJB beers are currently available in New Jersey, Rhode Island, Massachusetts, California, Florida, Maine and Puerto Rico for those who can't make the journey to the USVI.
St. John Brewers also make sodas and non-alcoholic drinks. They make what has to be the world's greatest Root Beer made with pure cane sugar, a Ginger Beer and a popular energy drink called Green Flash. Try the R&R cocktail made simply of rum and SJB Root Beer served in a barrel glass.
St. John Brewers continue to grow and create and the brewery has gained quite a following from the locals. Paul Tsakeres, owner of Island Cork wine shop, and Jamison Witbeck, Captain and Owner of Kekoa Black Sails Adventures, hang out here quite a bit. Be sure to say hi to Kelsey, our favorite bartender, when she's there. What could be better than beautiful views, friendly locals and island beer?
The Tap Room is open Monday through Saturday 11 AM to midnight and Sundays from noon until midnight. Happy hour is from 4 to 6 PM with $1 off all pints. Beer pong is played every Saturday night and other special events can be found on Tap Room's Facebook page. For visitors, print out a Tap Room coupon from the website before you go and present it to the bartender and receive a FREE Tap Room pint glass with a food and drink purchase of $25 or more.
Photos: Carrie Dow
Tags:
Beer
,
Cocktails
,
Food
,
Spirits
Recent Articles

Feedback
How are we doing? Tell us what you like or don't like and how we can improve. We would love to hear your thoughts!