5 Beverages for Braving the Ides of March
What would Julius drink?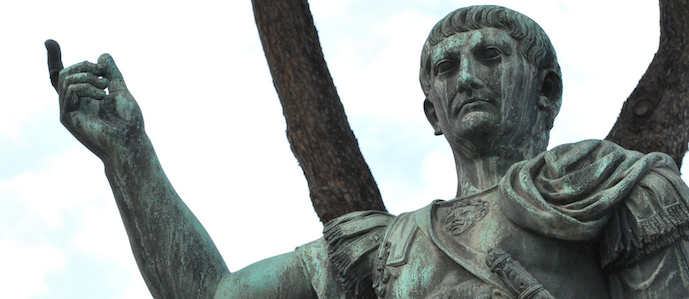 Unlike a visit from Aunt Irma, the Ides of March, or simply March 15th, is not inherently the worst time of the month, but thanks to The Bard, we will forever anticipate it with dread. Most of us can credit Billy the Shakes for our introduction to the Roman calendar, where in his play Julius Caesar, the Roman leader was forewarned of the day of his impending assassination.
What if you knew you were going to be on the mortal end of betrayal? Ever say, "I could really use a drink?" If it was 100 BCE – 44 BCE, like your fellow countrymen, you would have reached for wine, but what would you drink today to give you courage, or at least, lessen the pain? We've got five cocktails from which you can choose, even if you're not feeling lucky.
Il Et Tu, Brut
Adapted From Country Living

According to Chinese tradition, the color red has auspicious value. Drink this sweet-tart champagne cocktail to restore balance.
Ingredients (serves 8):
3 blood oranges, halved and juiced
1/2 cup red cherries, pitted
1/2 cup sweet vermouth
1/4 cup blended Scotch
1 bottle Brut, chilled
Peel of 1/2 orange, cut into 8 thin strips, for garnish
Directions:
Transfer orange juice to a blender.
Add cherries and blend until fruit is pureed.
Strain juice into a pitcher. Stir in vermouth and Scotch.
Divide cocktail mixture among 8 glasses and top off each with about 1/3 cup Brut.
Garnish with orange peels.
Fortunate Twist
From Examiner.com
Turn your luck around with this.
Ingredients (serves 1):
2 oz Citrus vodka
1 oz Cranberry juice
½ oz Fresh lemon juice
¼ oz "Hey Shuga!"
Mix all ingredients in a shaker with ice.
Shake vigorously.
Strain liquid into a chilled martini glass. Garnish with a lemon twist or maraschino cherry.
Lucky Deduction
From Croft Port, found on About.com
Drink this to help you figure it all out.
Ingredients (serves 1):
1 oz Camus VSOP Cognac
2 oz Croft Pink Port
Splash of orange juice
Orange wedge for garnish
Directions:
Build the ingredients in an old-fashioned glass filled with ice.
Stir well.
Garnish with an orange wedge.
Lucky 13
Adapted from Bramble Bar, found on Gintime
In the Roman calendar, the ides fell on the 15th day of March, May, July and October; but on the 13th in the other months, so...
Ingredients (Serves 5):
4½ oz Hendricks Gin
4½ oz hard apple cider
4½ oz fresh pumpkin puree
4½ oz pressed apple juice
4½ oz vanilla sugar syrup (to taste)
1 Bouquet garni (1 cinnamon stick, 1 clove, 1 star anise, 2 pressed juniper berries, 1 pressed cardamom pod tied into cheesecloth.)
Bitters
Ginger snaps
Directions:
Bring all ingredients to simmer until hot through and leave on the stovetop for approximately 20 minutes.
Serve warm in a your finest teacup or luckiest coffee mug.
Garnish with 3 drops bitters and a ginger snap.
The Tribute
Adapted from Cosmopolitan
Perhaps someone will stand in the line of fire for you. If not, then may the odds be ever in your favor.
Ingredients (serves 1):
1 oz coconut flavored liquor
⅔ oz Rum
1⅓ oz pineapple juice
½ oz lime juice
4 blackberries
Splash of simple syrup (1 part hot water, 1 part sugar)
Directions:
Add all ingredients to a glass filled with ice and stir.
Photo: Flickr user Hilverd Reker
Tags:
Cocktails
,
Holiday
Recent Articles

Feedback
How are we doing? Tell us what you like or don't like and how we can improve. We would love to hear your thoughts!