The Beck's Edison Bottle: Music To Your Beers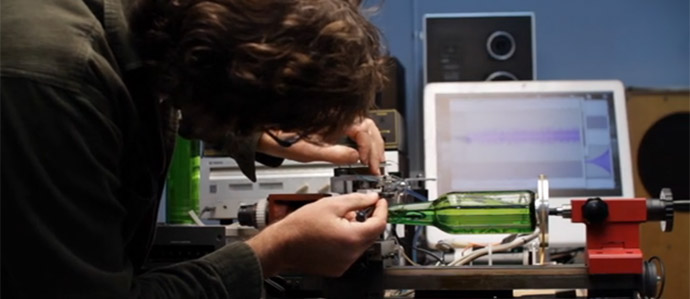 'Twas the late nineteenth century, right about when Thomas Edison created the cylinder phonograph, that Beck's Brewery first started making beer in Bremen, Germany. Coincidence? Hardly. The fates knew full well that 125 years later humanity would need something useful to do with macrobrews. What they may not have known is that it would have to do with music.

MP3s? Psh. iTunes? Don't be silly. Beck's just rolled out the world's first Edison Bottle to promote the company's new music label. That's right. Beck's transformed a signature green bottle into a playable medium as part of the "Green Box Project." Its the newest in a line of initiatives supporting creativity, something the company has been promoting for the last quarter century. (The family-owned Beck's was sold to giant conglomerate Interbrew in 2002 — and is now part of AB InBev — but this initiative continues.)

The new cylinder phonograph was made by New Zealand-based Gyro Constructivists. Check out the Edison Bottle in action, and a bit about the making of, in the video below:
Inspiration for the music makers came from another company program, "Live Beyond Labels," when someone realized bottles were born for this. You know Beck's funky bottle art, right? If you're a craft beer drinker, probably not, but if you're intrigued, you can check it out on the visually interesting, somewhat confusing, rather vertigo inducing website here.

At this time, Beck's has not made it clear if this music-playing bottle will ever be available for public sale, but if you are dying to jam out with your dram out, dust off that graphophone and keep your eyes and labels peeled.

Recent Articles

Feedback
How are we doing? Tell us what you like or don't like and how we can improve. We would love to hear your thoughts!