Drink Philly Takes Home Best New Blog Award at Philly Geek Awards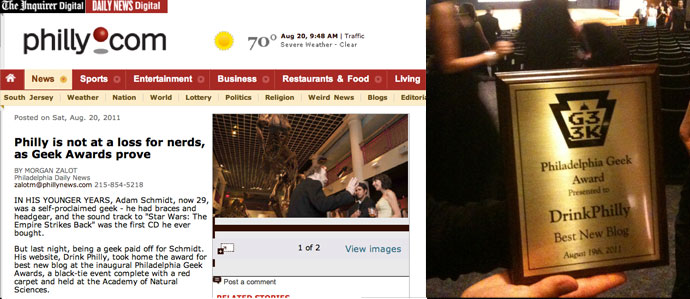 In one of the coolest events we have ever partaken in, Drink Philly took home the award for Best New Blog by the Philly Geek Awards, hosted by Geekadelphia.
Philadelphia's best techies, bloggers, writers, journalists, directors, animators, musicians, and artists attended the event, and it was an absolute honor that Drink Philly was able to share in such a creative and fun evening. Kudos to all the guys at Geekadelphia for putting on one of the best events we've ever attended.
Justin Giza, Kameron Markworth, and myself got this site up and running full time just a little over a year ago, and Chase Harrison joined us about six months ago, elevating our status to "11."
You may not know this, but none of us are actually from Philadelphia. I grew up in small town Lancaster County while the other guys all came from other various outside states. So none of us are actually Philly natives. But the encouragement, support, and friendship that we have all experienced from the local tech scene, entrepreneurs, creators and artists in this city have been so warm and welcoming since we started Drink Philly, that I feel like I can always call Philadelphia my home.
Thank you to my amazing team that works so hard every day, to our amazing writers that contribute to our site, to the developers and programmers that have helped make our vision a reality…
And thank you so much to you Philadelphia for helping us do what we absolutely love every day.
Cheers,
Adam Schmidt
Drink Philly
President & Founder
Vote for us in another contest HERE!
Read more about the event here
Feedback
How are we doing? Tell us what you like or don't like and how we can improve. We would love to hear your thoughts!