Drink Philly To Launch The Drink Nation
A Message From The President of Drink Philly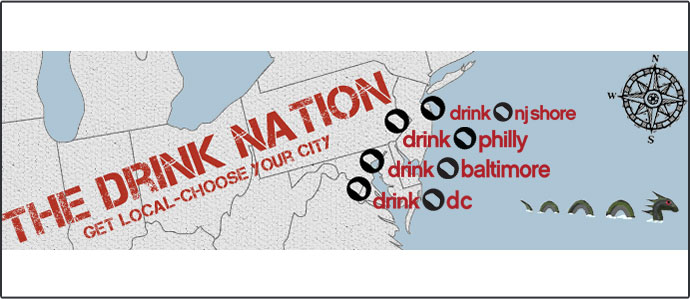 My Fellow Drinkers,
Over the past year, the Drink Philly community has grown substantially. Those of you who have been with us from the beginning have seen this tiny website grow from an Excel spreadsheet, to the top area happy hour directory, to a major name brand and community presence in Philadelphia.
We now enter yet another milestone in Drink Philly's progress. I am very pleased to announce that we will be launching TheDrinkNation.com, a nationwide website covering the best drinks and bars in the nation.
Along with this expansion, we will be launching in several new cities with DrinkBaltimore.com and DrinkDC.com this October, with DrinkNYC.com launching sometime in the spring of 2012.
My friends, we need your support more now than ever. I ask that you share this information with everyone you know, especially those who reside in or near Baltimore or Washington D.C., since we will be throwing incredible launch parties that they will want to be a part of!
With your help, we can help spread the word about quality craft beer, cocktails, distilleries, and wine while highlighting the amazing drinking experiences this country has to offer.
Thank you for your continued support, and welcome to The Drink Nation!
Cheers,
Adam Schmidt
The Drink Nation
President & Founder
TELL BALTIMORE!
Tweet
TELL WASHINGTON D.C.!
Tweet
TELL EVERYONE IN THE COUNTRY!
Tweet
Read more about how our friends over at Technically Philly broke the story about a week ago.
Feedback
How are we doing? Tell us what you like or don't like and how we can improve. We would love to hear your thoughts!