Champagne Buying Guide: Bubbly for Every Budget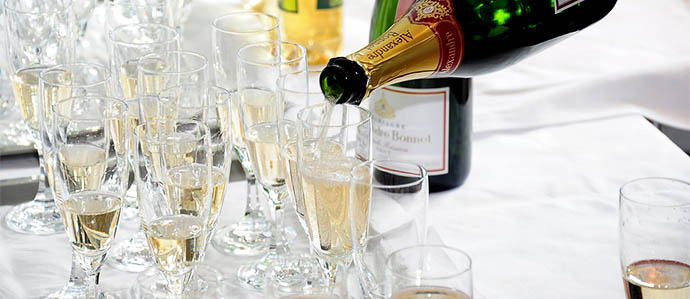 New Year's Eve is fast approaching, and there's nothing that kicks off a celebration like a flute of bubbly (besides your annual New Year's Eve streak through the neighborhood. Hi neighbors!). Whether you're pinching pennies or spending your days turning your hundred-dollar bills into paper-mache candles, there's a sparkler for your price range. This year, toast with one of these Champagne or sparkling wine options. (Note: prices may vary from state to state, store to store.)

Budget: $20 or Under

Jacob's Creek Sparkling Moscato ($13)
This refreshing pick from Australia starts the new year off right, with a tropical nose, light pear notes and a zesty finish. Kind of makes you want to kick off a game of New Year's strip limbo. No? Good choice, either way.

Voveti Prosecco ($17)
From Friuli, Italy comes a Prosecco so bubbly and crisp, you might be tempted to start breaking it out at midnight every night (we're not allowed to officially recommend doing that). You'll get delicious flavors like apple, pear, and peach from this light sparkler.

Banfi Rosa Regale ($20)
This fun sparkling wine will win you over with hints of raspberries, strawberries, and rose petals on the nose, and a crisp raspberry taste. The bright pink hue makes it downright irresistible. You'll be scheming how to get it into a bubbly brunch cocktail before the night is even over.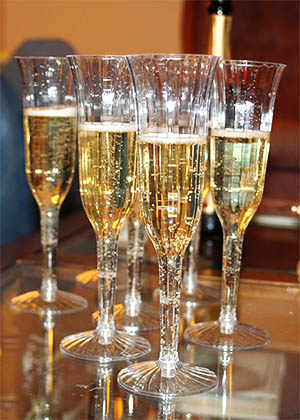 Budget: $25–$55

Segura Viudas Reserva Heredad ($25)
It's hard not to fall for this gorgeous bottle, and you'll love what's inside, too. This Cava delivers a flavorful, fruity palate that makes an elegant pick whether you're pairing it with dinner or popping it open at midnight. Or both. Who are we to tell you how to live?

Perrier Jouët Grand Brut Champagne ($40)
This lively Champagne will please anyone, with hints of fruitiness and a creamy finish that make it even more fun than wearing those crazy 2013 New Year's glasses. Yeah, we said it.

Gosset Grande Réserve Brut ($55)
This Champagne is a favorite for its richness — it'll be perfect for pairing with New Year's Eve snacks (basically anything guests can eat off a toothpick) well into the wee hours of January 1.

Budget: $60–$100

Bollinger Special Cuvée ($60)
Full-bodied and toasty with a hint of sweetness, this fine Champagne has been getting accolades for years, and for good reason. This is a great pick for kicking off the night (because let's be honest, at 2 AM, you can just serve apple juice and seltzer and no one will know the difference).

2002 Chartogne-Taillet Champagne Fiacre ($70)
You won't even care that you're covered in glitter (where did it all come from?!) when you have a glass of this Champagne blend in hand. You'll remember its crisp fruit notes and a creamy texture long after you pick the last piece of glitter out of your hair many months later.

2004 Perrier Jouët "Belle Epoque" Brut Champagne ($100)
This bottle is almost too beautiful to open (almost, but not quite). And the fine bubbles and baked apple flavors make no less of a statement. You'll feel so fancy and French drinking it that you may wake up spooning a baguette. Don't say we didn't warn you.

Budget: Over $100

Krug Grande Cuvée Champagne Brut ($180)
If you're knocking back $180 Champagne, you probably don't need our vote for this one, but we'll give it anyway. It takes over 20 years to craft each bottle of Krug Grande Cuvée, and it shows in the fine bubbles, velvety texture, and layers of toast and vanilla flavors. Savor this classic at the beginning of the night before things get hazy and you lose your pants. Oh, and as long as you're treating, we can come to your New Year's Eve party, right?
Top photo via Flickr user L.C.Nøttaasen; bottom photo by Flickr user Waldo Jaquith
Recent Articles

Feedback
How are we doing? Tell us what you like or don't like and how we can improve. We would love to hear your thoughts!