Space Jump Cocktail: The Fearless Felix Flip
A brave man deserves a brave drink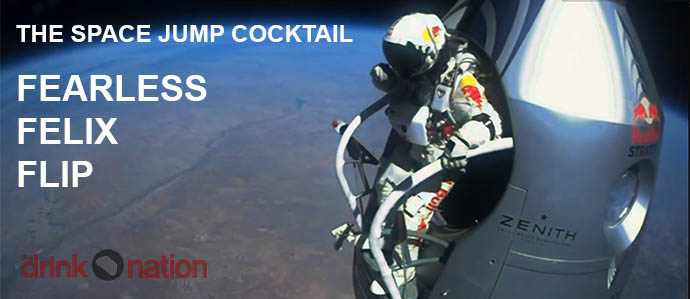 On Sunday, a record-breaking eight million people watched live on YouTube as Felix Baumgartner jumped off a tiny capsule more than 128,000 feet above Earth. The Austrian daredevil broke several more records in his successful Red Bull-sponsored stunt, including becoming the first person ever to break the sound barrier in freefall. Boom, indeed.

In addition to achieving Mach 1 on the exact 65th anniversary of Chuck Yeager's historic sound-barrier-breaking flight, Fearless Felix also broke records for the highest freefall and the highest manned balloon flight. Because he started to go into a flat spin just after four minutes into the flight, Felix deployed his drogue (a multi-stage parachute) a bit earlier than planned, so he did not break the record for longest freefall — that's still held by project mentor Colonel Joe Kittinger.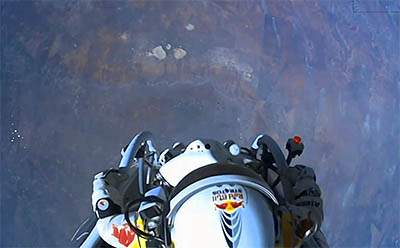 However, the early deployment allowed Felix to get out of the spin and after 9:09 minutes, land in the New Mexico desert on his feet in a gracefully executed run. The skydiver then sank to his knees and raised his arms overhead in a victory salute, before taking off his helmet and flashing a big grin.

The bravery — or craziness — needed to accomplish such a stunt is epic; just thinking about the view Baumgartner had from his capsule, looking down at the planet like a globe is breathtaking. To honor the man and the mission, we present a just-crazy-enough space jump cocktail: the Fearless Felix Flip.

The Fearless Felix Flip was created by mix master extraordinaire Colin Shearn, who previously managed nationally-renowned Franklin Mortgage & Investment Co. in Philadelphia (featured in Food & Wine, Playboy, Esquire, Wall Street Journal). Shearn is now bar manager of the new St. Charles Exchange in Louisville, KY, where he put in some research and came up with this recipe.


Describing the drink, he says, "A brave man deserves a brave drink! An OUNCE of bitters? What the hell is Green Chartreuse? An egg? Absinthe? All crazy talk. Only Felix could pull this one off. The Champagne of course is to celebrate the fact that you're still alive." Shake one up and raise a glass to Fearless Felix!

The Space Jump Cocktail: Fearless Felix Flip

1 oz. Angostura bitters
½ oz. Green Chartreuse
½ oz. Demerara syrup
1 whole egg
1 oz chilled Champagne
2 dashes absinthe

Shake first four ingredients without ice. Add ice. Shake vigorously again. Strain into 6.5-oz. juice glass or Old Fashioned glass. top with Champagne. Garnish with two dashes of absinthe on the surface of the drink.
Recent Articles

Feedback
How are we doing? Tell us what you like or don't like and how we can improve. We would love to hear your thoughts!