Wine & BBQ: An Underappreciated Pairing
Move over, beer
Barbecue season is in full swing, and as we near the culmination of a summer of burned hot dogs and shoulders — Labor Day Weekend — you'll be scouring the web for killer recipes to make the last hoorah of the season the best yet. You probably think you have beverages covered: a case or two of beer, a pitcher of lemonade or fresh iced tea. All good, but there is a strong case to add some wine to your lineup. Not only because many of your guests are probably wine people, but because BBQ and wine can go fabulously together.

Of course, they can also be the culinary equivalent of a hot mess. The spice and smoke of BBQ can smash a fine wine to pieces, and a vintage with too much oak can make you feel like you are chewing on a piece of the barrel. If what you are calling is a BBQ is simply grilling dogs and burgers with a side of lighter fluid, you can choose whatever wine you like best. But for true smoky meat, a few suggestions: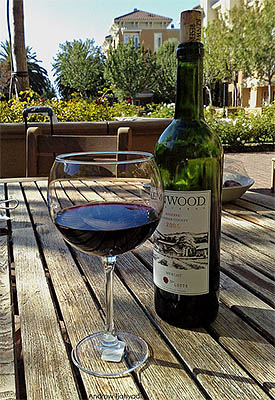 Zinfandel
Zin is a wine with personality. A little bold, sometimes a little over the top, it's got a beautiful balance of fruit, smoke, and spice that is not only tasty, but isn't scared of the strong flavors of a North Carolina vinegar sauce or a heavily spice-rubbed rack of ribs. In fact, the dueling flavors work well together and can give a boost to both. Look for one that mentions pepper, smoke, and berries on the tasting notes; wineries in the Dry Creek Valley in Northern California produce some favorites.

Shiraz
Tannins are often what turn some off to red wines, but the dry and sweet flavors are tamed by BBQ. The fruit gets to shine through, and pull out the essence of the meat. Shiraz goes great with pulled pork or other fruity ingredients, such as a peach BBQ sauce. Good sources include Australia, where the Victoria region creates a plethora of bottles every year. Many are cut with a little something else to make them more appealing — try a Penfolds Grange, which has a touch of cabernet sauvignon to take the edge off.

Sauvignon Blanc
Reds tend to pair better with the red meat often used in BBQ, but if white is what you are after, a high-acid pick like sauvignon blanc is your best bet. Since it can cut through the fat of the hearty cuts that smoke so well, it holds its own where something more even-keeled like chardonnay would be flat on its face. If you enjoy fruity flavors, look from one from the Marlborough region of New Zealand; for something more earthy and grassy try Loire in France.

Sangria
Sometimes the best wine isn't just wine at all. What gets lost in the all the smoke of BBQ are the tiny nuances of a wine, so save those for a night of cheese and Scrabble and instead grab a bottle of rioja, a few shots of brandy, and whatever fruit is in the fridge to create a classic sangria. Casual and cooling, this is like the grown-up version of the "bug juice" you used to gulp at picnics as a kid. Just gulp a little slower now. BBQ responsibly.
Top photo via Flickr user millerm217; bottom photo via Flickr user bogelo
Recent Articles

Feedback
How are we doing? Tell us what you like or don't like and how we can improve. We would love to hear your thoughts!