Mind the Shrubs: A Colonial Cocktail Ingredient Is Back in Vogue
Drink your vinegar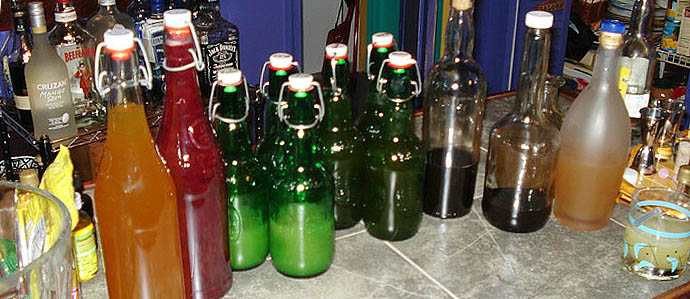 With a name derived from the Arabic word sharab — "to drink" — the acidulated concoction of fruit juice and sugar known in Colonial America as a shrub fell out of favor as a go-to cold drink around the same time industrially produced foods began their rise to prominence.

The advent of home refrigeration dealt the final blow to the shrub, whose syrupy base was the primary method of preserving a fruit harvest long after it had been picked. Traditionally, home shrub makers would combine fruit or juice with sugar and vinegar, allowing the mixture to steep over several days or weeks before use. The sugar acts as a preservative of the concentrated syrup, which would be mixed with cool water to create a refreshingly tart warm-weather beverage.

"I think the historical significance is really cool," says Phoebe Esmon, a Philadelphia bartender and principal of nascent consulting venture Spirit Animal Beverage Solutions. "There are so many kinds of vinegar, so many different flavors you can put into it," she says, "and it really opens up the possibilities of adding flavor and acid to a cocktail without using citrus."

Since acid stimulates the salivary glands, the sweet-tart liquid both quenches thirst while piquing the appetite, making it ideal for inclusion in apertif-style cocktails. Brandy or rum was added to shrubs in the nineteenth century; today, Esmon suggests starting with gin or whiskey as a complimentary base.

Unlike a cocktail brightened with citrus juice, which tradition deems should be stirred, shrub drinks can be shaken; they remain clear and won't turn a cocktail cloudy, the way citrus will.

You can make your own shrub at home by macerating one part fresh, stemmed fruit — halved or quartered if large — with one part granulated sugar in a bowl in the fridge overnight. The sugar will extract the liquid from the fruit. Strain out the solids and mix your fruit syrup with one part vinegar — champagne and apple cider both make interesting pairings — whisk to combine, and voila, a historically accurate cocktail enhancer with a modern feel.
Looking for a specific recipe to try your hand at shrub-making? Check out this recipe Phoebe contributed to Imbibe Magazine:
Strawberry Shrub Instructions:
Hull and slice 1 pint of strawberries. Place them in a pot with 1 quart of apple cider vinegar. Bring to a boil, then remove the pot from the heat and allow the mixture to cool to room temperature. Strain out the fruit, then add 1 cup of simple syrup to the remaining liquid.
Then make it into a Strawberry Shrub Collins:
1 1/2 gin (or another spirit)
3/4 oz. simple syrup (1:1)
3/4 oz. strawberry shrub
Club soda
Ice cubes
Tools: barspoon
Glass: Collins
Garnish: fresh strawberry and/or basil or mint

Combine gin, simple syrup and strawberry shrub in an ice-filled Collins glass, stirring until chilled. Top with club soda, then garnish.
Recipe via Imbibe Magazine
Photo via Flickr user Chip and Andy
Recent Articles

Feedback
How are we doing? Tell us what you like or don't like and how we can improve. We would love to hear your thoughts!