Warm Weather Wines: 4 Varietals for Spring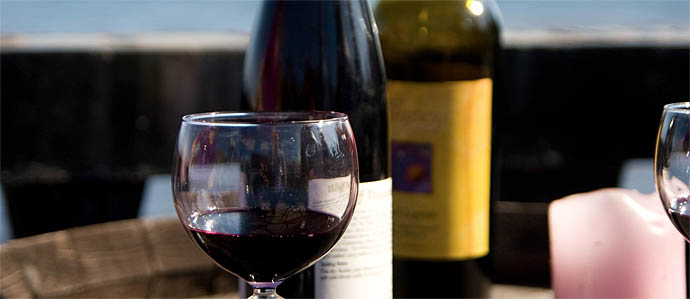 It's been touch and go for a bit there, but I believe it is now safe to say we are in warm weather season. Let me clearly state that this is different than the upcoming Triple H season, when heat, humidity and haze turn fancy hairdos into frizzy disasters and outdoor evenings into a mosquito-slapping contest. No, this is the sweet spot, when a cool glass of wine and a dusky sky can provide the simple pleasures in life.

So that glass of wine — what shall it be? Sure, whatever suits you is the way to go, but just like certain bottles go well with certain foods, certain bottles also go well with certain weather. The beer industry has hopped on this idea like the money-making trend it is, releasing small batches of seasonal brews with great fanfare. Wine may not get into the same themed hoopla, but there definitely are options that are perfectly suited for the spring.

Sauvignon Blanc

I often refer to sauvignon blanc as a gateway wine. It's light, refreshing and easy to drink, but actually has flavors and characteristics that vary by region. If you want to start sounding smart when talking wine, here's a style to get acquainted with. Chill (no ice cubes!) and sip alone or with grilled dishes or Asian flavors. Grab a bottle from New Zealand's Marlborough region for tropical fruit, brightness and just enough acid to cut the wasabi you spiked your sushi with. Opt for one from the silty soil of France's Sancerre region for minerals, grass and touch of sharpness. Same grape, generally same process, but the different soil and weather of the two regions will clearly come across in the pale amber wine, giving you something to talk about.

Viogner

Ever see someone stick his entire nose into a wine glass? It's not pretty, or even necessary, but when you order a glass of viogner, sometimes it's hard to resist. Like delicious perfume, the rose-like aroma of this wine is intoxicating. And like the flower it resembles, it is delicate, too, and needs the right temperature to shine. Douse it with too much heat on a summer day or too heavy a food during winter and it will bruise and be crushed. Instead, allow the crispness and fruitiness to mingle with equally heady dishes like a coconut curry or ginger-marinated seafood.

Riesling

For those with a sweet tooth, the varying array of rieslings on the market are the perfect warm weather pick. Ranging from dry (labeled as Kabinett) to super sweet dessert wine (labeled as Trockenbeerenauslese) with a variety of options in between, even the driest options still have a touch of sugar on the tongue. Known for their acidic blend of fruit and mineral flavors, they are light without seeming flat or boring. Germany holds the belt for most popular production area (the Mosel area is simply covered in vines of the stuff), but you can look closer to home for this beauty. New York's Finger Lakes region is home to a number of quite good riesling vineyards that produce mellow and almost effervescent versions of the wine. And at a really affordable price point, too.

Sangiovese

Okay, so you are a red wine drinker, and no amount of blue sky and warming breezes are going to make you change. Respect. But choose wisely. A standard Cab or heavy Bordeaux blend can be too hot to handle in the heat. Go light but still rich and earthy with sangiovese. Jammy and a touch spicy, it's the grape behind the storied Italian Chianti, although you can by versions from all over the world now. And if little old Italian men can sit outside in the southern heat and down jugs of this for lunch, then by all means you can handle a glass or two. Continue your Tuscan-style experience by matching it with a food that's rustic and earthy, like a grilled steak or stuffed mushrooms.
Photo via Flickr user tinachensf
Recent Articles

Feedback
How are we doing? Tell us what you like or don't like and how we can improve. We would love to hear your thoughts!