Vinho Verde: Green Beer's Refined Cousin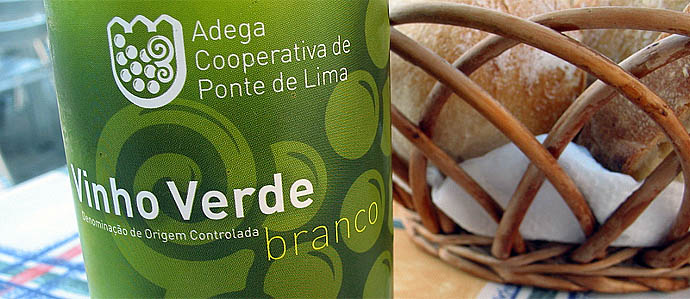 Everything is green. And yes, spring is certainly in the air, but that's not what I mean. The green T-shirts, green beads, and green plastic bowler hats adorned with glittery shamrocks are, of course, in honor of St. Patrick's Day, a holiday revolving around unusual attire choices and the consumption of — you guessed it — green beverages. But while many a celebrator has a mug of food coloring-spiked beer in hand, I'd like to suggest a different but still appropriately hued option: vinho verde.

Translated verbatum as "green wine," it seems to fit the bill for the holiday. It's bright, it's fresh, it's a little feisty. And it's even a pale green color. It's sort of like a little spirited leprechaun in a glass.

Perhaps I'm reaching, but it's certainly a drink worth considering. Vinho verde hails from Portugal and arrives in stores just as the Erin Express begins its way through town. Bottles are meant to be drunk within a year — the wine is aged for a very short time (harvest is in the fall) which translates into a short shelf-life. The youth of the wine paired with the grape varietals used — most popularly Alvarinho and Loureiro — create an acidic, light, and almost bubbly brew.

Fans of sauvignon blanc or brighter pinot grigio will take to this spring treat easily since it has the same sharpness and tropical appeal. Enjoy it with seafood, fresh seasonal veggies, or as the case may be, a corned beef sammy and the strains of "Finnegan's Wake."

Have I piqued your interest? Even if you are still at "maybe," give it a go. With bottles starting at just $5 (I grabbed a respectable bottle last week for $12), it's an affordable experiment to enjoy in our current warm weather. Slainte.
Photo via ricardo / zone41.net
Recent Articles

Feedback
How are we doing? Tell us what you like or don't like and how we can improve. We would love to hear your thoughts!